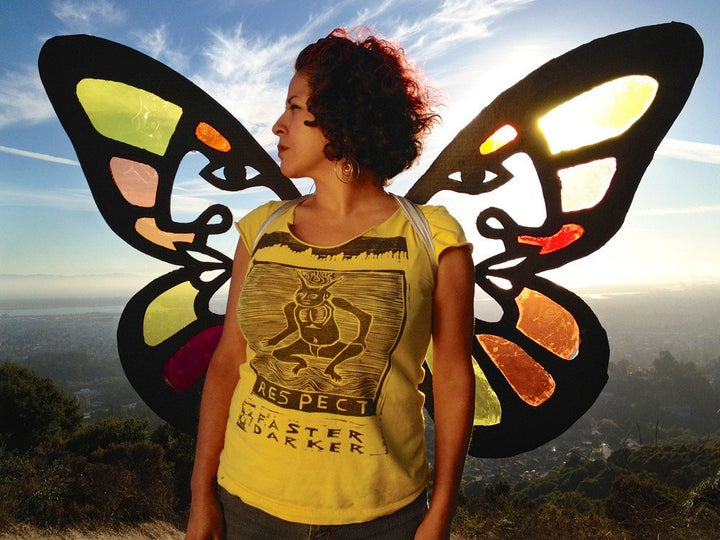 Rodriguez, known for her whimsical digital artworks and prints, teamed with author Jose Antonio Vargas and actor Rosario Dawson to create the portrait of immigration rights advocates, released by Voice of Art. The documentary captures not only the dedicated efforts of undocumented activists risking arrest to protest in Arizona, but also the participation of countless creative figures -- street artists, filmmakers, musicians, public performers and more -- who use visual expression to affect the national dialogue.
Migration is Beautiful, Part 1 (watch Parts 2 & 3 below)
We had a chance to chat with Rodriguez over email, who spoke with us about her views on immigration policy and how she envisions the future role of artists in politics:
HP: Your new project, "Migration is Beautiful," sheds light on a group of artists working together for social justice. Can you tell us what prompted you to make this documentary series?

FR: Art can spark the imagination like nothing else can, and yet I think that progressives do not fully understand the powerful role that artists can play in social change.
The anti-immigrant movement has successfully been able to dominate the immigration debate by pushing out messages about migrants that are inhumane, racist, xenophobic and hateful. But those of us who fight for migrant rights are not only fighting back, we want to reframe the way migrants are viewed, artists especially. We want to expose the tragic losses that have resulted from unjust immigration laws, and we want to inspire and challenge people to reimagine migration as something beautiful and natural -- somethign we all do.
HP: In 2011, you also co-founded an organization called CultureStrike, which similarly works to engage artists in migrant rights. Do you see art as having a distinct advantage for creating social change?

FR: Art is uniquely able to speak to our understanding of the world by delivering potent, powerful and empathetic content. People engage with art in a very different way than they engage with a policy paper or a news article or even a protest. This is why I believe in the power of art to shape thoughts, change hearts, and ultimately help shape laws and policy. Art has the potential to distill the most complex social challenges down to their most basic and simplest values. Values like love, family, caring for the other, caring for those in need, and fighting the things that cause human suffering.
Migration is Beautiful, Part 2 (watch Part 3 below)

HP: Artists like Ai Weiwei and Pussy Riot have long stated that "all art is politics." Do you agree? How would you characterize an artist's role in activism?
FR: Yes, I do agree. Art is always reflective of an experience and a world view. Politics is so often the most grotesque form of humans trying to shape their human existence. Art is also about us shaping our human experience, but through beauty, form, reflection, and critical analysis. Artists have a unique responsibility to recognize the power and impact of what we can create, not only can we expose and critique, we can also be visionary.

HP: You've chosen the monarch butterfly as the symbol for your message. Why?

The symbol of the monarch butterfly has been adopted by various migrant rights organizations, artists, and lovers of justice. It was not my idea, but an idea that's been circulating for years -- throughout the country and in Latin America as well. I was drawn to the butterfly because of the transformative nature of this creature. The monarch butterfly represents the beauty of migration and the right that living beings have to freely move.
Migration is Beautiful, Part 3

HP: Do you anticipate a major shift in immigration policy or a change in the general perception of immigrants in our country?

Yes, this is definitely starting to shift. You can see this not just in the polls, but in the ways that people are understanding the complexities of just how bad our immigration is. This is thanks to the amazing work that has been done by organizers, artists, cultural workers and most importantly, undocumented youth and their families. The strategy of undocumented folks coming out was not just a brilliant political strategy, but an important cultural one as well.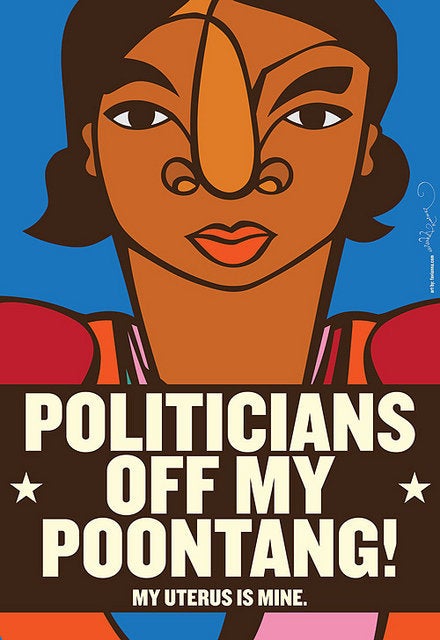 Favianna Rodriguez's Art
Related
Popular in the Community