A few days before the presidential election on November 4, 2012, neither of the candidates, nor many in the national media, were discussing immigration issues or what kind of an impact the Latino vote would have on the outcome of the presidential election. On this cold, windy day, artist Miguel Luciano and a group of undocumented students gathered to fly enormous hand-built kites they had made and decorated with life-sized photos of themselves on the National Mall in Washington, D.C. As each kite soared in the sky above the White House and the Washington Monument, each youth appeared to be flying or hovering in the sky among these symbols of American power and freedom.
Luciano's "DREAMer Kites" project is a part of The Ripple Effect: Currents of Socially Engaged Art, an exhibition curated by Raquel de Anda which is on view at the Art Museum of the Americas (the visual arts division of the Organization of the American States) and co-sponsored by the Washington Project for the Arts ("WPA"). With additional sponsorship/support from CultureStrike and United We Dream, Luciano created this project to provide an empowering experience for undocumented students and give them an opportunity to make a poetic visual statement about themselves and immigration issues.
If art is about showing us new visions of what is possible in the world, Miguel Luciano's "DREAMer Kites" project allows us to envision an America in which young people, including undocumented immigrants, can soar in the sky and fly like superheroes. Among many things, Luciano's project is about dreams -- the dream of flying and freedom, the American Dream and the need for federal passage of the highly politicized DREAM Act ("Development Relief and Education for Alien Minors" Act).
When Luciano and another group of undocumented youths flew with new "DREAMer kites" a few days ago on December 7, the story made the front cover of the Washington Post. Check out the slideshow below for images from the flying events in November and December as well as from the workshop in which the undocumented youths -- the self-proclaimed DREAMers -- built their own kites for Luciano's "DREAMer Kites" project.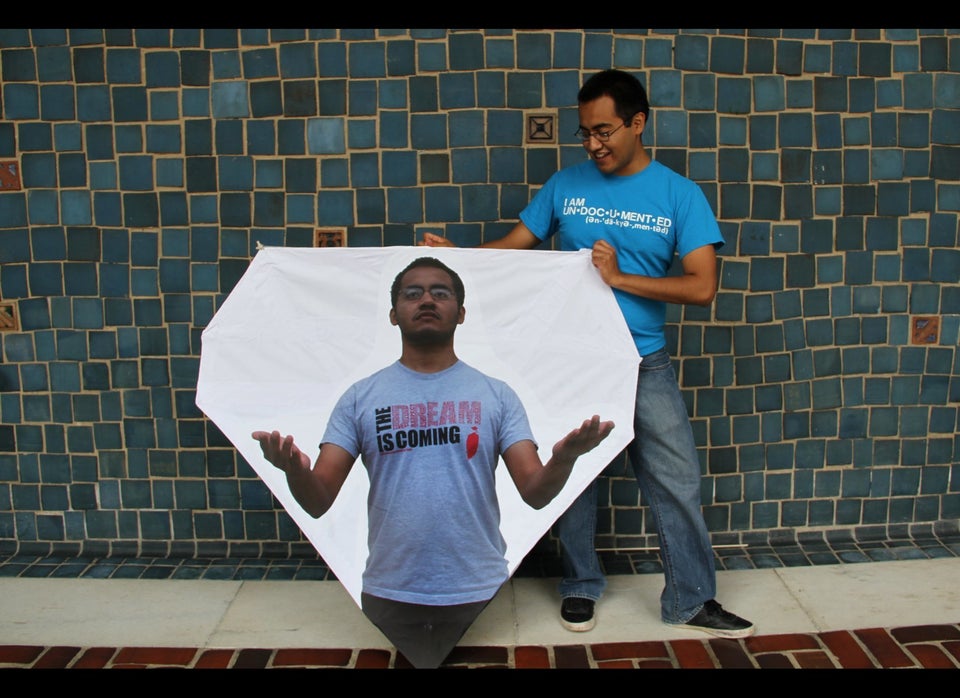 Miguel Lucianos DREAMer Kites
The Ripple Effect: Currents of Socially Engaged Art is on view October 15, 2012 - January 13, 2013 at the Art Museum of the Americas, 201 18th St., NW, Washington, DC 20006. Artists in the exhibition include Annie Albagli and Vadim Ogievetsky, ASCHOY Collective, Floating Lab Collective, Ghana Think Tank, Olivier Giron, Miguel Luciano, Pedro Reyes, Mark Strandquist and Lina Vargas de la Hoz.
For more information, see: wpadc.org and amaMuseum.org.
All images courtesy of the artist.
Related
Popular in the Community