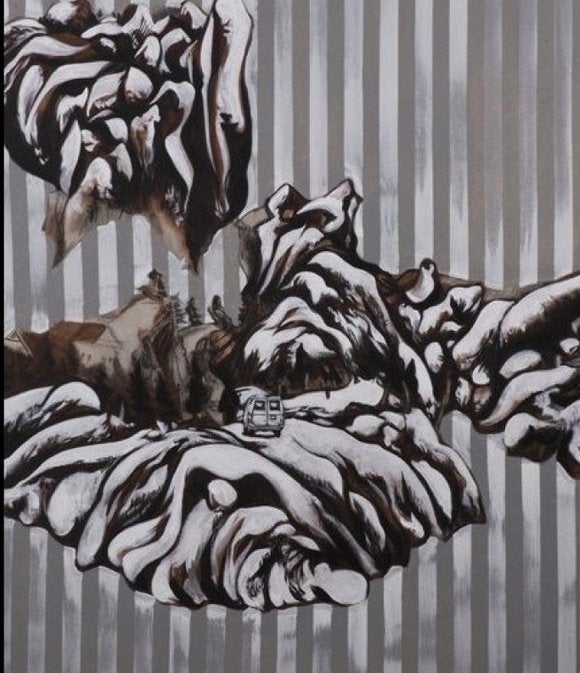 There is a painter -- a staple of the now so chic and artsy Lower East Side long before it was -- that has always captured my attention because of the powerful nature of his artistic call. I've known this man for almost two decades now, his name is Miguel Trelles: a university professor, curator, mentor of many and above all, a prolific gifted artist.
Trelles will have a solo exhibition entitled "Chino-Latino: Mother of Pearl" at "La Galería of the Villa Victoria Center of the Arts in Boston, curated by Anabel Vazquez-Rodríguez, with opening night on January 18. It will be a nice opportunity to witness the experience of a new generation of his emblematic Chino-Latino collection, a powerful trip the artist has embarked on for over a decade.
What is a Caribbean painting? How can the Latino concept exist and thrive in the context of a foreign and even a global context? In a way, Chino-Latino explores the possibilities of the impossible. "Christopher Columbus intended a trip to India and landed in the Caribbean. I'm going to the Caribbean, anticipating a detour into China," says the painter. The fact is that, by colliding apparent opposites, he creates conceptual yet sensuous paintings.
Trelles is a sharp, eloquent intellectual with a full-of-flavor Caribbean language, capable of immersing you in fascinating discussions on art with bohemian enchantment. His cultivated self is in constant dialogue with a decidedly street smart "Nuyorican" quality, often resulting in provocative ideas that end up explored in canvas.
Academically trained at such distinguished institutions as Brown University and Rhode Island School of Design, Yale University, École Nationale Supérieure des Beaux Arts in Paris and Hunter College; Trelles has turned his studies in Chinese culture and especially art, into a challenging yet appealing visual metaphor for multiculturalism.
Trelles brand relies heavily not just in Chinese sources, but also in a wealth of Pre-Columbian, Afro-Caribbean and Latin American references with a tip of the hat to American Pop.
"Chino-Latino aims to draw from these cultures, until recently ignored or disavowed by Western cultural hegemony. My goal is to consciously straddle 'the tremendous potential energy of difference' (Kubler) that Europe unleashed between the four Americas. Nothing short of a respectful and well-informed appropriation of Chinese dynastic painting, specifically from the Sung to the Ming Dynasty, 960 - 1644, will do as a rough draft towards a Pan-American suma, a model that will not deny Europe but which will encompass more," according to the painter.
Classic Chinese landscape paintings have guided him in formulating an apocryphal "Caribbean of the mind." Even though the compositions and brush idiom in these paintings reference Chinese art history, these canvas and linens acknowledge European painting. In the monochromatic series exhibited at the Villa Victoria Center of the Arts, Trelles investigates a calligraphic topography that shies away from color to privilege linear rhythms. Perhaps, more importantly, this new work incorporates, albeit in a minute scale, some of the spare Confucian / Mayan figurations of Tramite Hsiao.
In that Confucian series, Trelles explored social interactions through large-scale figures. At Villa Victoria the human scale undergoes a tremendous transformation, diminishing in scale to the extent that figures appear minute in the context of a rather lively nature. And whereas minute figures populate, enliven and enhance Chinese monumental landscape paintings from the Sung, some of Trelles' figures in these black, grey and white paintings are light years centuries ahead of their forebears, though perhaps not totally contemporary. In some paintings planes and boats give hints of a more modern population. There are also ladies hanging out, musicians playing and what appear to be corporate buildings dotting the mountains.
Where is this place? Is it China, or the Americas? Perhaps it is both and neither. In any case, according to the artist, "In Chino-Latino, Chinese antiquity is pursued to leverage new ways for America to envision itself as whole." And that is an experience not to be missed.
PHOTO GALLERY
Miguel Trelles' CHINO-LATINO: Mother of Pearl
La Galería" of the Villa Victoria Center of the Arts is located at 85 W. Newton street, in Boston.
REAL LIFE. REAL NEWS. REAL VOICES.
Help us tell more of the stories that matter from voices that too often remain unheard.