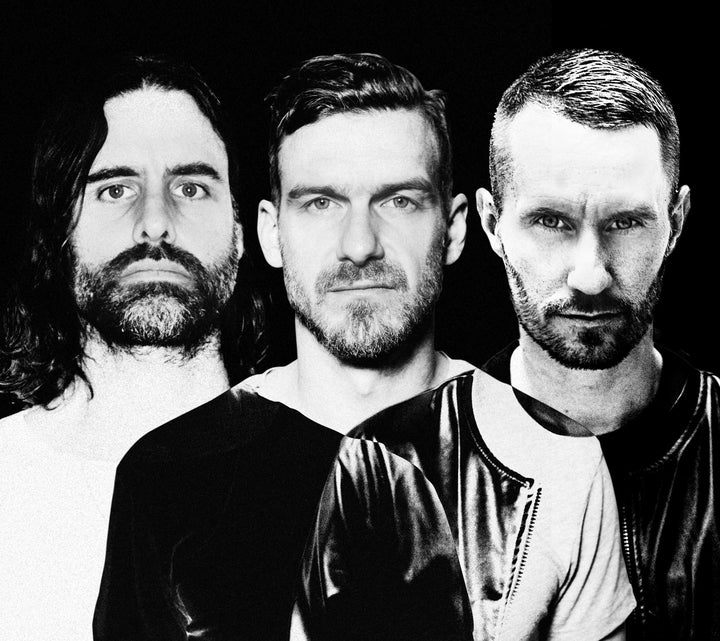 I was a senior in high school when a friend introduced me to Miike Snow. We were driving to her house and she played "Silvia" in the car. She hit "play" and raised the volume, drowning out all other sounds with Andrew Wyatt's hypnotizing falsetto. For some reason, I always remember it to be raining in this moment, but maybe that's just my imagination trying to recreate the moodiness I felt as a teen discovering a band for the first time.
Fast forward about seven years and I'm interviewing Wyatt and Pontus Winnberg, two of the indie pop band's founding members, at the Atlantic offices in New York. Winnberg is also one half of producing duo Bloodshy & Avant with the third founding member of Miike Snow, Christian Karlsson.
Three days prior to meeting the band, I saw them live for the first time; they played their first show as Miike Snow in over three years at (Le) Poisson Rouge. They were playing to support their latest album "iii," released four years after their last effort, 2012's "Happy to You." The show was everything I'd hoped for -- fun, energetic and danceable -- but it wasn't without its hiccups. 
Wyatt was the first to admit it.
"I think the first show was borderline disaster," he said. "It just definitely took a minute to blow the dust off the gears."
"I think most of things that feel like disasters for us don't travel beyond the stage," Winnberg noted semi-assuredly. "We hope."
Of course the stress levels were high for the band, who admitted they really didn't know how they were going to pull off their set. But after a couple more performances -- in Brooklyn, for their official album release show, and in Philadelphia -- both Wyatt and Winnberg agreed they actually felt like the gears were starting to turn smoothly. 
"There's nothing more stressful than putting your new music out and trying to pull out a live show that's untested all in the same week," Wyatt said, to which Winnberg added, "But the Philly show really felt like, we're back, we can have fun."
And when it comes to Miike Snow, fun is important -- just look at the video for "Genghis Khan," a James Bond parody centered around a queer romance.
Their music is undeniably catchy, mixing aspects of dance, rock, jazz, funk, electro and everything in between to make their own brand of pop music with what Winnberg describes as a "Miike Snow vibe."
"Now that we've come to the third album, there is a Miike Snow vibe, or Miike Snow feeling, so we can be a little bit more free and we all know -- we have that programmed in our heads that [something] feels like [we're in] 'Miike Snow land' and we kind of push it toward that."
Wyatt elaborated, explaining that while they have a distinct sound, their latest offering "does sound a bit different from our other ones in a certain way." 
"It's different but the same, and that's what you want to do, I think, when you make records. You don't want to just repeat your old sound. You've gotta have a new sound but retain the things that made the band what it was," he continued. 
In terms of what makes a good pop song -- something the band is very good at -- the guys agreed that clarity and energy are key. Considering their backgrounds in production and songwriting for Top 40 artists like Britney Spears (Winnberg and Karlsson are responsible for "Toxic") and Bruno Mars (Wyatt helped write "Grenade"), we trust them. 
"You have to have clarity of idea and firmness and conviction about what the idea you're putting out is. And then it has to have a lot of energy behind it, in some way shape or form," said Wyatt. 
"And it needs to be direct," added Winnberg. 
"iii" has also all of those things and more. As Wyatt mentioned, it's different but the same. It has the "Miike Snow vibe" with some added texture, be it through a collaboration with Charli XCX ("For U"), whom they consider a friend, or through a soulful sample (re: "Heart Is Full"). 
"I think we're in a cool time, at least in in my career, where we've kind of found the people that are very talented in the industry but noncompetitive," Wyatt explained after we began talking about the oft-debated issue of sampling. "We're friends. Nobody's weird. I feel like it's a very special time for that, where nobody is trying to take from the other without giving credit."
For this album, the band was heavily influenced by old school hip-hop and J Dilla beats, which is evident on tracks like "My Trigger," a soulful tune with a psychedelic funk edge. 
Winnberg continued, "Of course there is still theft. [But] for us, to do a song based on a J Dilla beat is, of course, a huge tribute to J Dilla, and we wish that he could be alive and hear it. And maybe even like it. It's not about taking something and running with it to build on your own success."
Instead, he noted, "It's more of like a community feel." 
"I think that's something [that's] happening in society outside of music as well. We've been living with the hacker idea of [wanting] information to be free for a while now," Wyatt elaborated. "People are starting to understand how you can use that without it being a destructive force, but something that can make things even better." 
The topic of free information quickly evolved into a discussion about streaming services like Spotify, which both Winnberg and Wyatt are fans of. They believe that these services, which have sparked plenty of debates among musicians in the industry, are an undeniable part of our future. 
"We're that portion of the industry that believes streaming has a future and possibly is the future. And if you don't think so, you should probably not put it up on Spotify," Winnberg explained. "I think that group is getting smaller and smaller, for obvious reasons. It's genius!" 
There's also the conversation surrounding compensation, but Winnberg said that incentive to build a fan base is most important to them. And at the end of the day, they said despite their own choices and opinions, the decision to release music for fans to listen to for free is up to the artist. If an artist wants to sell only vinyls, so be it. If they don't want to stream, it's their choice. 
"It's an endless discussion but I think the future lies in diversity, not exclusivity," Winnberg said. "It should be more and more open. Information wants to be free. The creator calls the shots, not someone else. It's the communication between the creator and the audience." 
As the industry continues to change, especially thanks to the Internet and its ability to keep the world connected, both Winnberg and Wyatt concurred that people are creating and consuming content in different ways. As Wyatt put it, "in the endless pursuit of clicks, you want to create that thing that hasn't been created yet." 
The guys are constantly creating, whether it be for their own band or side projects. 
"There is no boundaries and that's what's so fantastic," Winnberg explained, cementing his point about the music industry as a community. "Just because we're doing this now, we're still kind of all our roles at the same time. We're we, and we're this community. Everything happens at the same time, and today it works." 
"iii" is out now, and Miike Snow is currently on tour. 
Calling all HuffPost superfans!
Sign up for membership to become a founding member and help shape HuffPost's next chapter
BEFORE YOU GO
PHOTO GALLERY
10 Great Music Festivals