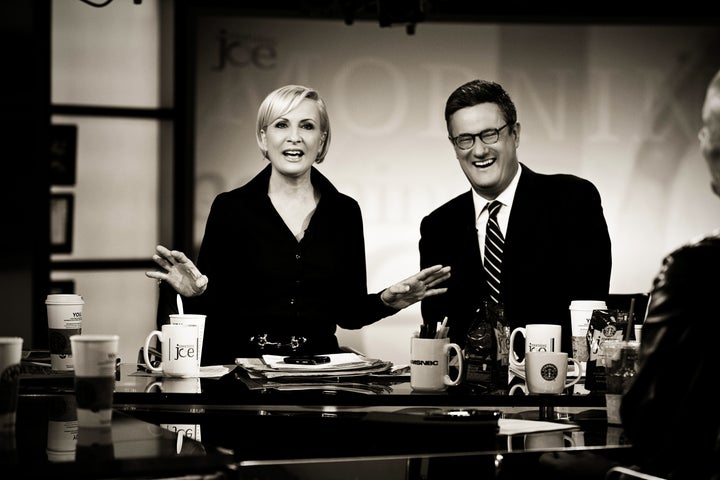 During 2008, the presidential election was riveting the country, and MSNBC's "Morning Joe" was gaining more and more of a following on television. For co-host Mika Brzezinski, it should have been a wonderful time. Instead, she was miserable and frequently contemplating bolting what was becoming an increasingly high-profile show.
The reason? The staggering pay disparity between Brzezinski and her "Morning Joe" co-hosts. Her personal crisis around her salary, and her attempts to fix it, became the core of her latest book, "Knowing Your Value." In her view, she kept falling in the traps that she says many women fall into as they attempt to navigate through the workplace.
As the show progressed, Brzezinski realized that she was making a great deal less money than anyone else on the show. She could feel it, she told The Huffington Post in an interview on Wednesday, when co-host Joe Scarborough could fly his entire family to whatever location they happened to be filming from while her girls had to stay home.
As it turns out, Scarborough was making fourteen times as much as she was. She didn't blame him for the startling gap in their pay; in her eyes, Scarborough had just secured a better deal for himself. "He was coming from prime time and I was coming from no job," she told HuffPost. "I absolutely understood a disparity." But she couldn't understand such a large one, and repeated attempts to get MSNBC President Phil Griffin to increase her salary failed.
Then, one day, Brzezinski went to take some money out of her bank account. She thought she would overdraw, but instead, found an eye-popping amount of extra money. She had no idea where it came from. As it turned out, Scarborough had diverted one of the bonuses he received for achieving a ratings goal into Brzezinski's account. Brzezinski said that, in Scarborough's mind, he was making a business investment: he didn't want her to walk, since the show would suffer. She insisted that it was not an act of kindness on Scarborough's part.
"Trust me, no one likes me that much," she said. "There are nice people in the world. No one's that nice."
However, Brzezinski did not react positively to this sudden infusion of cash.
"I was sickened by it," she said. But that feeling of revulsion led her to truly reach a decision about her future with MSNBC: that she would either get a raise, or she would quit. When she went to meet with Griffin yet again, she was successful. She likened him to a "bad boyfriend" who only took and never gave anything back.
She said this approach worked "because I meant it and because it was me and because I was absolutely ready to walk. I was not apologetic." It was this revelation, she says, that led her to write the book: the previous attempts to increase her salary had failed because she had not "known her value" to MSNBC. (Even so, by her own admission, Scarborough still makes quite a bit more money than she does.)
For all the talk about knowing your value and being more aggressive in negotiations, though, isn't a huge part of the problem a systemic one? What about the institutionalized sexism that has resulted in a pay gap between men and women everywhere? Why is it that, in Brzezinski's telling, her signing of that initial contract reflected poorly on her, but Griffin's offering of the contract--and subsequent refusals to increase her salary--did not reflect poorly on him?
Brzezinski said that she addresses those things in the book--and stressed that the pay gap is the reason she wrote it in the first place. "I lay out the numbers," she said. 'I lay out the disparities across the board. But the book is about the things we can control. We've got to stop apologizing. We've got to stop scrambling and feeling so grateful to be there."
As for Griffin, she said, he was simply being a good businessman.
"I am not Phil's victim," she said. "He was doing the right thing, what anybody would want someone in his position to do. What are you supposed to do, throw money away? We all have to look in the mirror."
Brzezinski also addressed another issue that often seems to pop up: her day-to-day role on the show. A widely-read article in The New Republic called "The Pathetic Sexism of 'Morning Joe'" noted that Scarborough talks much more than Brzezinski and essentially accused the program of treating her as a second-tier member of the team, asking, "why is she so quiet?" At the time, Brzezinski said she would try to speak up more. By Wednesday, she was more combative about the kerfuffle.
"I am far more vocal in ways that the viewer never sees," she said. "Joe is the creator. I'm the executor. And I really don't care what people think."
Finally, on a wholly unrelated subject, Brzezinski responded to recent rumors that she and Scarborough may be following their executive producer, Chris Licht, to CBS News, where he is widely believed to be going. Asked about the speculation, Brzezinski laughed.
"They fired me," she said. "Wouldn't that be something?"
Related
Popular in the Community