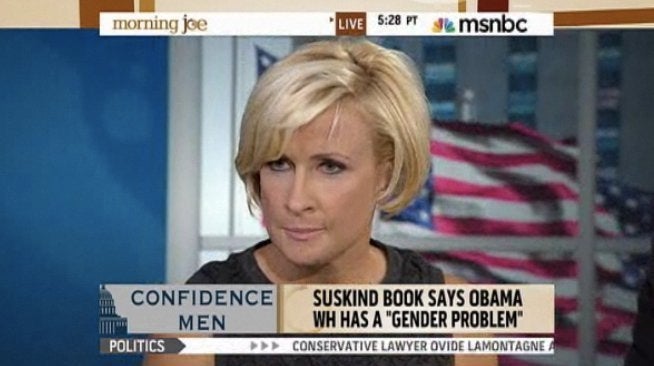 Mika Brzezinski had a very frosty conversation with author Ron Suskind about some of the more explosive allegations in his new book about the Obama administration.
Suskind's book, "Confidence Men," describes a tense, difficult working environment for women in the Obama White House. Obama's former communications director, Anita Dunn, is quoted as saying that "this place would be in court for a hostile workplace. . . . Because it actually fit all of the classic legal requirements for a genuinely hostile workplace to women."
The administration has pushed back against many of the claims in the book. When Suskind appeared on Tuesday's "Morning Joe," Brzezinski treated him to one of her frostiest cross-examinations in memory. When he said that Obama adviser Valerie Jarrett supported the premise of his book, she stopped him.
"I actually don't think Jarrett would agree with your book," Brzezinski cut in. Suskind replied that Jarrett had, in fact, cooperated with him while he was writing the book.
"Do you think the White House is a hostile workplace for women?" Brzezinski asked. "I don't think it is, certainly now," Suskind said. He began to recount a section of his book, in which, he said, Obama met with a group of his female staff. Suskind referred to the women as "them."
"With 'them'?" Brezizinski said. "With the women," Suskind said. "Uh-huh," Brezinski said, putting an emphasis on the "huh."
The conversation moved on, but Brzezinski brought the discussion back to women. "Do you point out in the book that there are more women in high level positions than in any other administration?" she asked. "I say that he has a Murderer's Row of women in senior positions," Suskind said. Brzezinski started in again, causing Scarborough to react.
"Hold on a second, Clarence Darrow!" he said. "Why don't you ask about the book?"
"Are there any dates, quotes or statistics wrong in the book?" Brzezinski asked. Suskind said that there are always some minor errors in a first printing of a book, and that they were being corrected.
As the talk ended, Scarborough joked that, if Suskind returned tomorrow, "Mika Darrow" would have more questions. "Mika, let's grab coffee," Suskind said. "Why don't I get you a cup of coffee?" she responded.
WATCH:
Calling all HuffPost superfans!
Sign up for membership to become a founding member and help shape HuffPost's next chapter