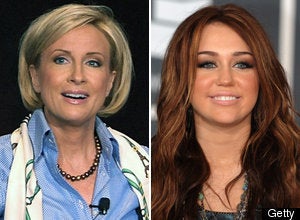 Mika Brzezinski has a new and unlikely rivalry brewing — with tween queen Miley Cyrus!
Brzezinski, the mother of two daughters, was a vocal critic last year after Cyrus performed a pole dance at the Teen Choice Awards.
"My impulse is to say, 'Get off my case, Mika. Get over it.' But then I think, 'Well, that makes me just like her. I'm acting just like everyone else who has some kind of chip on their shoulder.' My job first is to entertain and do what I love, and if you don't like it, then change the channel. I'm not forcing you to watch me. I'm not forcing you to talk about me. I would do that pole dance a thousand times again, because it was right for the song and that performance. But, dude, if you think dancing on top of an ice-cream cart with a pole is bad, then go check what 90% of the high schoolers are really up to. It's funny. I don't know if a lot of parents remember what they were like as kids. But I'm like, 'Dude, as if you were an angel!'"
On "Morning Joe" Thursday, Brzezinski and Joe Scarborough reacted to Cyrus' response.
"What a lovely, lovely girl," Brzezinski said. "Isn't she just the sweetest thing?"
"On behalf of all of the parents of young girls in America, I would say this to Miley Cyrus," Scarborough said. "Dude, it's not adults that are concerned about it for our sakes, we can change the channel. Dude, our young daughters are watching you. Dude, w really don't think it's appropriate for you to sexualize a dance, dude, that 7, 8, 9, and 10-year old girls are watching."
"I'm not sure what was happening there with the pole and I will definitely stick by what I said," Brzezinski added. "I thought it was inappropriate and unfortunate."
Calling all HuffPost superfans!
Sign up for membership to become a founding member and help shape HuffPost's next chapter