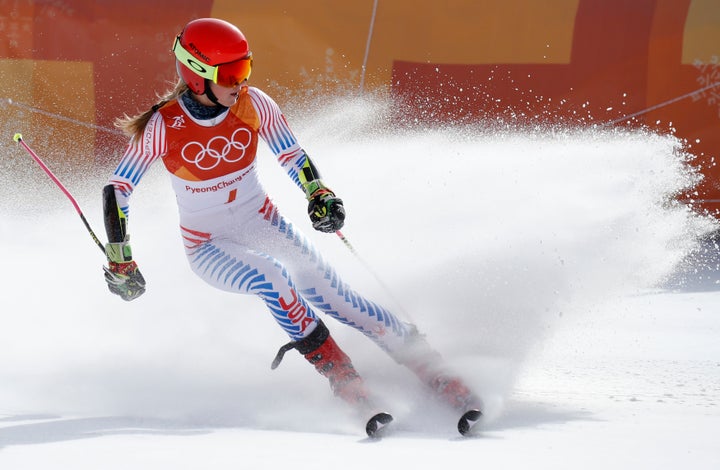 PYEONGCHANG (Reuters) - American Mikaela Shiffrin put on a show of grace, power and consistency to win her first gold medal of the Pyeongchang Olympics in the women's giant slalom on Thursday.
With all the top 30 having completed their second runs and a huge margin separating them from the rest of the field, the 22-year-old was assured of victory, with Norway's Ragnhild Mowinckel taking silver and Italy's Federica Brignone bronze.
After days of frustrating weather delays, it was the perfect start for Shiffrin, who won the slalom in Sochi four years ago and could compete in four or five more events here.
In a contest of sharply fluctuating fortunes between the morning and afternoon runs, her placings of second and fourth-fastest gave her a combined time of two minutes, 20.02 seconds, and a comfortable margin of 0.39 seconds over Mowinckel.
Italy's Manuela Moelgg was the last of the top 30 to race, having beaten Shiffrin by 0.2 seconds in the morning, but she fumbled her chance of winning an Olympic gold at the age of 34 and finished the competition in eighth place.
Sweden's Estelle Alphand posted the fastest afternoon time but was only 26th in the morning, leaving her 16th overall.
With many competitors struggling to avoid mistakes and several wiping out altogether on the steep 1,250 meters-long slope, with a vertical drop of 400 meters, Shiffrin was conspicuous by her smooth, attacking style and easy rhythm.
The giant slalom was the first women's Alpine skiing race to take place at the Pyeongchang Games, after high winds forced it to be rescheduled from Monday and also caused Wednesday's slalom to be postponed.
(Additional reporting by Rory Carroll; Editing by John O'Brien)
CORRECTION: The headline in a previous version of this story indicated Shiffrin's race was her Olympic debut.
Popular in the Community