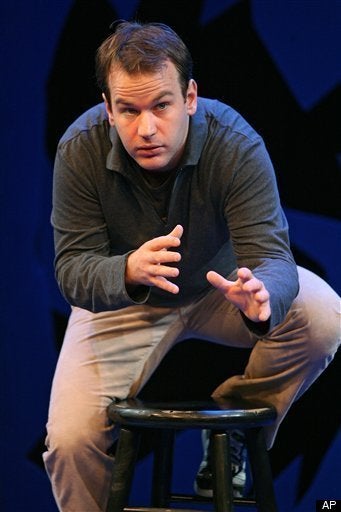 Why hasn't some TV network/cable channel snapped up comic Mike Birbiglia for a sitcom? He's all over TV talk shows and radio's This American Life. He's got a bestselling collection of comic pieces. His last one-man show -- Sleepwalk With Me -- will be filmed as a movie this summer. Plus, Birbiglia has a mildly self-deprecating, Everyman appeal, a slightly skewed and self-aware perspective on life, a deceptively lazy low-key delivery and of course excellent comic timing. Heck, he's even got a catch phrase of sort -- an "I know" delivered in varied tones of amusement and amazement.
Birbiglia's latest story/performance piece is much like Sleepwalk With Me. We get a rambling tale of his life, pierced with gentle observations and some hilarious comic set pieces all topped off with a bit of wisdom. This time, Bibiglia is dating a woman who says she always dates at least two men at a time, so one of them can't hurt her that badly (sort of like the heir and a spare system for British royalty). He knows he loves her but he's also sworn off marriage. "I never looked at my parents' marriage or really anyone who had been married more than 30 years and thought, 'I gotta get me some of that!'"
But when he's sideswiped by a drunk driver, Birbiglia has that flash of insight that maybe he does love her and want it all, no matter the risk.
On this frame, he hangs all sorts of amusing side-trips. The show begins with a stand-up's riff on cell phones and automated answering systems, the sort of thing you might hear anywhere. But the main show is Birbiglia telling stories from his life. He's not a master of voices and characters. You don't get the feeling that the stage is peopled with everyone from his world. Indeed, while he's empathetic to those around him, the defining point of view is always his own.
Here's audio of Birbiglia on This American Life telling the one of the stories that's in the show.
Even Jenny -- the girlfriend who has another boyfriend -- is a little fuzzy to me. When Birbiglia speaks as Jenny, he's quiet and calm and very reasonable, usually dropping a comment or declaration that resonates with our hero or blows his mind. Yes, he should be honest when he's kissed another woman (she, after all, is dating another guy). "But it doesn't mean I won't lose interest in you," she proffers. Or when they fight over bringing the proper ID to the airport (she doesn't bother and they always let her through, which makes me think this dating somehow took place pre-9-11 or how else could that be possible, even if the airlines do have a different standard for women, as he insists?) and they fight and fight and she insists he's wrong and he says if he's always so wrong, why is she with him? And she says, "You can't choose who you love." It's quiet and meant to be devastatingly meaningful to him. And the moment is sweet but the basic weakness that keeps this show being good rather than great is that while I know why Jenny might love Mike, I have no idea why he loves her or even what she's really like. Everything comes from his point of view.
But it's a witty, entertaining 90 minutes, with numerous memorable high points, like Mike throwing up on a date in high school at the local fair. Or getting his first kiss ages after he'd claimed he was already kissing girls a lot and so he couldn't celebrate with anyone. Or that horrific car crash which led him to spend months trying to correct a faulty accident report filed by the cop on the scene so that the drunk driver would be held responsible rather than Birbiglia. (The show's most frustrating twist is when he gives up and just pays for the other guy's car damage, rather than getting the police to correct the issue despite a massive, almost obsessive effort. Why? And why does the cop say "do the right thing" and just pay? isn't the right thing for the cop to do the right thing and correct his mistake? And for the drunk to learn his lesson, not get off easy?)
Those moments that frustrate you are a credit to Birbiglia's performance. You actually care what happens, you get caught up in his crusades, his fights with his girlfriend, his desperate desire to, you know, get by and have a little happiness. He ends on a sweetly hopeful note because that's the kind of guy he is and we know him well by now. And you can't help thinking that someday, when he captures the quirky charm of others as well as he captures his own, Birbiglia will create a show that's not just fun but genuinely great.
THE 2010-2011 THEATER SEASON (ratings on a four star system)
Blood Ties ***
Fellowship * 1/2
Fingers and Toes ** 1/2
Frog Kiss *** 1/2
The Great Unknown ** 1/2
Nighttime Traffic **
Our Country *
PopArt *
Shine! The Horatio Alger Musical ** 1/2
Show Choir **
Tess: The New Musical **
Trav'lin' ***
Without You *** 1/2
Note: Michael Giltz was provided with tickets to the show with the understanding that he would be writing a review.
Calling all HuffPost superfans!
Sign up for membership to become a founding member and help shape HuffPost's next chapter