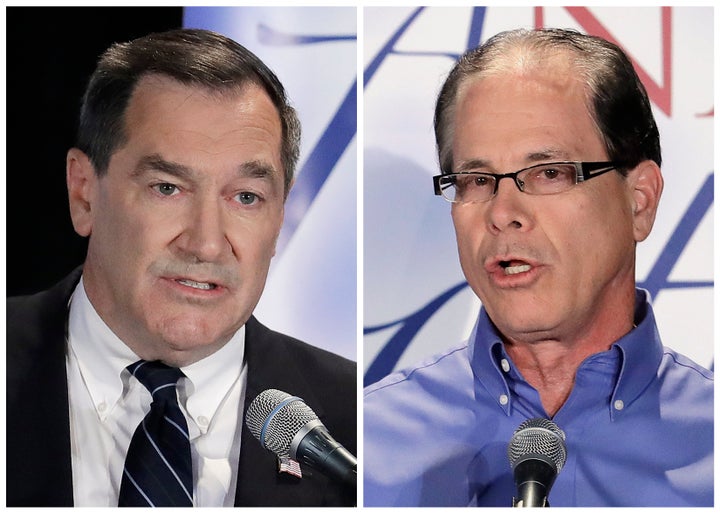 Republican Mike Braun defeated incumbent Democrat Joe Donnelly in the race for Indiana's U.S. Senate seat on Tuesday.
Donnelly was one of the Senate's most vulnerable Democrats, running for re-election in a state President Donald Trump won by nearly 20 points in 2016. He campaigned as someone who was willing to break with his party on such matters as supporting Trump's proposal for a new wall along the Mexican border.
But in October, Donnelly voted against Trump's Supreme Court nominee Brett Kavanaugh, which Braun's campaign claimed gave him a surge of support. The race had been close all summer, with Donnelly holding a slight lead in most polls.
Braun, a businessman and former state representative, made Mexico a huge part of the campaign. He said in TV ads that Donnelly had personally shipped jobs to Mexico because he had owned stock in a family business that operated a factory in Mexico. Even though Donnelly sold the stock last year, Republican-sponsored TV ads still labeled him "Mexico Joe."
Donnelly countered that Braun's company, an auto parts distributor that he currently owns, sources a lot of products from China and has been the subject of many lawsuits and citations for labor standard violations. Indiana Democrats even sent staffers to a Braun campaign event to wave Chinese flags.
But as in other states, much of the Indiana Senate debate focused on health care. Donnelly has opposed Republican efforts to repeal or undermine parts of the Affordable Care Act. Even though he supported those efforts, Braun claimed that he, rather than Donnelly, would better protect people with pre-existing conditions from discrimination by insurance companies. He based his claim in the fact that his firm provides health insurance for its employees, even though they have to pay an unusually high deductible before their coverage kicks in.
"While I was in the hospital, Mike Braun fired me and backdated my termination so my insurance had been canceled," Songer said in the ad.
Calling all HuffPost superfans!
Sign up for membership to become a founding member and help shape HuffPost's next chapter