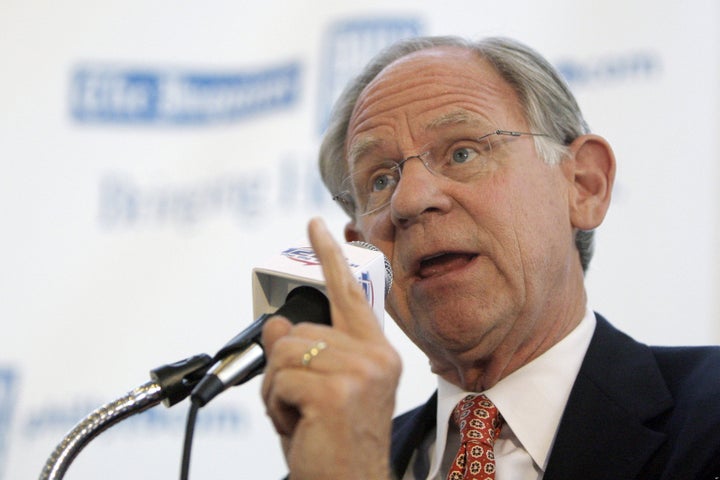 In an interview with Fox News Wednesday, Rep. Mike Castle (R-Del.) said that a "significant" reason for his Senate primary loss to Christine O'Donnell was because of "misrepresentations" about his record by conservative radio personalities like Sean Hannity and Rush Limbaugh. Hannity highlighted the comments on his show Wednesday night:
CASTLE: I think the misrepresentations and the lies of Sean Hannity and Rush Limbaugh on the air were another very significant part of all of this. I think some of the misrepresentations in my opponent's race were a part of it as well. How they ever came up with the theory that I voted to impeach George Bush, I'll never know. That was the news for a couple days right around the election time -- by, I think, Mr. Limbaugh. But those are the kinds of things that make politics very difficult.
"He sounds like a liberal, blaming other people!" Hannity responded. His guest for the segment was O'Donnell, who praised the Fox News host for all the work he did in the race:
O'DONNELL: You guys brought his voting record to the public, so I thank you! I kind of agree with him. I wouldn't call it blame, I would call it credit. You were the leader of the band in saying, "We have got to stand on our principles. We cannot sell out anymore. Selling out on our principles is what has brought us to the brink of bankruptcy." ... I do thank you for that.
Castle was an early target of Tea Party activists. At a town hall meeting on June 30, 2009, Castle was one of the first lawmakers to experience the rage that came to characterize that summer. Attendees challenged him on the global warming "hoax," "socialized medicine" and the "cap and trade tax thing."
Even Jim Geraghty of the conservative National Review wrote that many of the claims floating around about Castle were simply not true. "Look, guys, Castle's a really liberal Republican. He supports cap-and-trade. You would think his 52 career ACU rating ought to be enough to dissuade folks," Geraghty said. "But since this campaign, we've seen O'Donnell backers say Castle voted for Obamacare (he didn't) the stimulus (he didn't) and now, the impeachment of Bush (he didn't)."
*************************
What's happening in your district? The Huffington Post wants to know about all the campaign ads, debates, town halls, mailings, shenanigans, and other interesting campaign news happening by you. E-mail us any tips, videos, audio files, and photos to election@huffingtonpost.com.
Popular in the Community