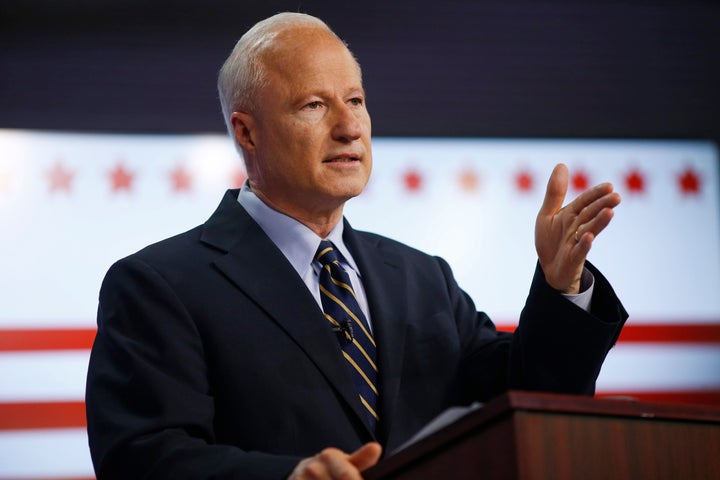 BRIGHTON, Colo. ― Rep. Mike Coffman (R-Colo.) has tried harder than most congressional Republicans to distance himself from Donald Trump.
In August, he put out an ad saying he didn't like the GOP presidential nominee. This month, he called for Trump to step aside. And last week, he said he may not vote for president at all, because he won't support Trump or Democratic nominee Hillary Clinton.
It's good politics in Coffman's Denver-area district, where he's worked over the past several years to craft a Latino-friendly, reasonably moderate image at odds with Trump's virulently anti-unauthorized immigrant boasts.
The question is, will it will work?
Coffman will have to pull off a tough feat to survive his Democratic challenger, state Sen. Morgan Carroll. He'll have to outperform Clinton, who may well win his district by double digits at the top of the ticket.
Coffman, who's been in the House since 2009, is neck and neck with Carroll, according to private polling conducted by Carroll's campaign. Polls show Clinton trouncing Trump in the district by double digits, according to a Democratic source, meaning Coffman needs a significant number of Clinton voters to split their tickets and vote for him as well. He would need to do that in a place where Trump's sagging standing seemed most likely to doom down-ballot Republicans: a suburban swing district with a large Latino population.
The craziest thing is, Coffman might pull it off.
"The district itself has moved in a lot of ways, but Coffman's brand is almost completely distinct from all of the changes that are happening demographically and politically within the district," a national GOP operative told The Huffington Post, declining to comment by name.
Coffman has beaten the top of the ticket before. He won in 2012, even though President Barack Obama defeated GOP presidential nominee Mitt Romney by 5 points, 52 percent to 47 percent. Coffman won that year by 2 points.
But 2016 is different. This year, there's Trump.  
It is this ugly and this toxic because he is in greater jeopardy of losing this seat than he's ever been before and they know it.

Morgan Carroll
For all of his disavowals of the GOP nominee, Coffman has given Democrats plenty of ammunition to tie him to Trump. Last week, in a debate with Carroll hosted by 9News, Coffman fielded a question about his 2012 comments on Obama's birthplace ― relevant because of Trump's long history of birtherism.
Coffman said at a private fundraiser that year that he didn't "know whether Barack Obama was born in the United States of America ... in his heart, he's not an American." Coffman apologized for the comments, but the Democratic Congressional Campaign Committee has packaged the tape into a commercial suggesting Coffman is no different than Trump.
Coffman acknowledged at the debate that he made the statement "at one time."
"Assumed it wasn't public," Coffman said. "I was wrong for making the statement, I said so. But to somehow infer in any way that it had an influence on Donald Trump is absolutely ridiculous."
Coffman was asked at the debate whether Trump's statements about groping women made him a sexual predator. "I don't know," Coffman answered, even though it was that 2005 hot-mic recording that led Coffman to call for Trump to step aside.
Democrats also have hit Coffman for his comments about deportation, a hot-button issue in the 20-percent Latino district. Coffman said he thinks the U.S. ought to toughen immigration enforcement ― a Trump mainstay ― but he also supports allowing certain undocumented immigrants to obtain legal status.
Immigration has been a particularly important piece of Coffman's political evolution. His predecessor was former Rep. Tom Tancredo (R-Colo.), an immigration hawk and fringe precursor candidate to Trump who ran for president in 2008 by promising to build a wall along the U.S.-Mexican border. The district changed after the 2010 census, and Coffman, who once championed similar positions, switched gears as thousands more Latinos became his constituents.
It was then that Coffman announced his support for legal status for undocumented immigrants and a path to citizenship for those who came to the U.S. as children, often called Dreamers. He's voted against his party on certain measures related to immigration ― such as a bill to strip deportation relief from Dreamers ― but he also joined fellow Republicans in a lawsuit against Obama's broader deportation relief.
Coffman's most recent pro-unauthorized immigrant move, a bill introduced in June that would allow certain Dreamers to move toward citizenship, was dismissed as merely a "symbolic gesture" by the pro-reform group United We Dream.
It's unclear whether Latino voters buy Coffman's shift on immigration ― and whether they'll hold him accountable for his earlier positions.
Carroll spokesman Drew Godinich told HuffPost that Coffman's supposed shift doesn't amount to much.
"He's come out and said that he's evolved away from this position and certainly the rhetoric and stuff his campaign puts out would suggest that, but when you actually look at the record in Congress, the evolution is not necessarily there," Godinich said.
Coffman has alienated at least one Republican as well ― Tancredo, whom he replaced in Congress. Tancredo wrote in Breitbart News that he hoped Coffman's "duplicitous attack" on Trump would not win him another term.
"Coffman has gone through so many 'soul searching' political transformations it is becoming apparent to all that the only angst he feels is from the fear of no longer being CONGRESSMAN Coffman," Tancredo wrote.
Meanwhile, Coffman and fellow conservatives have have gone after Carroll as too liberal for the district. Americans for Prosperity, the conservative political advocacy group funded by the Koch brothers, didn't endorse Coffman, but the group is working against Carroll through door-knocking and phone-banking. It's the only House race in the general election in which the organization is expressly advocating, chosen because Carroll has "a long track record of far-left policies" and because it's a close race where the group may make a difference, said Michael Fields, Americans for Prosperity's Colorado director.
Coffman spokeswoman Cinamon Watson said Carroll "has proven herself to be blindly partisan," while Coffman's comments on Trump show he's willing to stand up to both parties.
"Morgan Carroll said she trusts Hillary and is running to get Hillary's back," Watson said in an email. "Mike Coffman's got Colorado's back."
In August, Coffman released an ad promising to "stand up" to Trump. He even learned to speak Spanish and produced a version of the ad in Spanish. But he's struggled throughout the year with how to handle his party's presidential nominee ― first by refusing to say whether he would support Trump, and now by saying he may not vote for president at all.
Carroll has been considerably more willing to align herself with the top of her party's ticket and with fellow Democrats. She's been joined on the campaign trail by Sen. Michael Bennet (D-Colo.). House Minority Leader Nancy Pelosi (D-Calif.) traveled to Colorado to raise funds for Carroll's campaign. On Monday, Carroll was endorsed by Obama, who called her "the kind of tough and smart leader who will build on all we've accomplished and take our nation forward."
At a volunteer event in Brighton last week, Carroll smiled when she saw a cardboard cutout of the president wearing a Morgan Carroll shirt.
"President Barack Obama's wearing my T-shirt!" Carroll said. She said her campaign needs a "resounding, crushing, absolutely annihilating victory" to send a message that Trump's policies are unacceptable, and to elect a Congress that would work with Clinton.
Coffman's fear of losing the election, she said, is fueling desperate attacks against her. 
"There's a saying, you know, about 'a drowning man kicks the hardest,'" Carroll said. "It is this ugly and this toxic because he is in greater jeopardy of losing this seat than he's ever been before and they know it."
HUFFPOST READERS: What's happening in your state or district? The Huffington Post wants to know about all the campaign ads, mailers, robocalls, candidate appearances and other interesting campaign news happening by you. Email any tips, videos, audio files or photos to scoops@huffingtonpost.com.
REAL LIFE. REAL NEWS. REAL VOICES.
Help us tell more of the stories that matter from voices that too often remain unheard.
BEFORE YOU GO