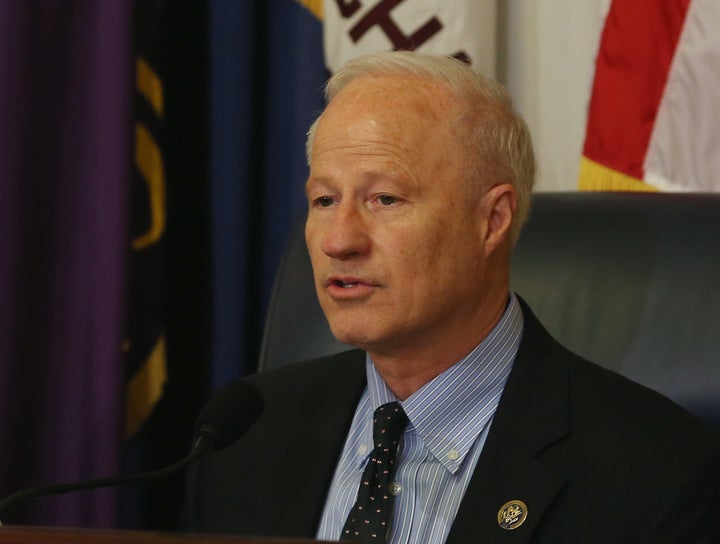 WASHINGTON ― Rep. Mike Coffman (R-Colo.) says he's so torn about the presidential race this year that he might not vote at all.
"I don't know if I'll cast a vote for president," Coffman told a local TV affiliate in a Tuesday interview. "I'm not going to vote for Hillary Clinton or Donald Trump. I'm struggling with it like many other Americans."
The four-term congressman has been undecided throughout the election cycle, though he's criticized the Republican presidential nominee in campaign ads. After a tape surfaced this month showing Trump making lewd comments about women, Coffman called on him to pull out of the race altogether.
He said Tuesday he's not a fan of Libertarian Gary Johnson, either, because he said "dumb things" on foreign policy.
Coffman may not like his options, but skipping out on a presidential election is more than just bad optics for an elected official. There are plenty of reasons why he should vote ― including the fact that it's a right generations of Americans struggled to have, and something people in other countries are still fighting for.
Despite his dismay with Trump, Coffman has embraced some of the GOP nominee's conspiracy theories in the past. Coffman was caught on camera at a private fundraiser in 2012 saying he didn't know if President Barack Obama was born in the United States.
"I don't know that," he said at the time. "But I do know this, that in his heart, he's not an American. He's just not an American."
The Colorado lawmaker is running for reelection in one of the most competitive House races in the country. Once a GOP stronghold, his district has become a swing district with a growing Latino population, leading Coffman to shift to a more pro-immigration stance a few years ago. His Democratic challenger, state Sen. Morgan Carroll, also stands to benefit from more Democratic voters turning out than Republicans. Clinton is currently leading Trump in the state by 5 points, per HuffPollster.
REAL LIFE. REAL NEWS. REAL VOICES.
Help us tell more of the stories that matter from voices that too often remain unheard.
BEFORE YOU GO
PHOTO GALLERY
#NeverTrump