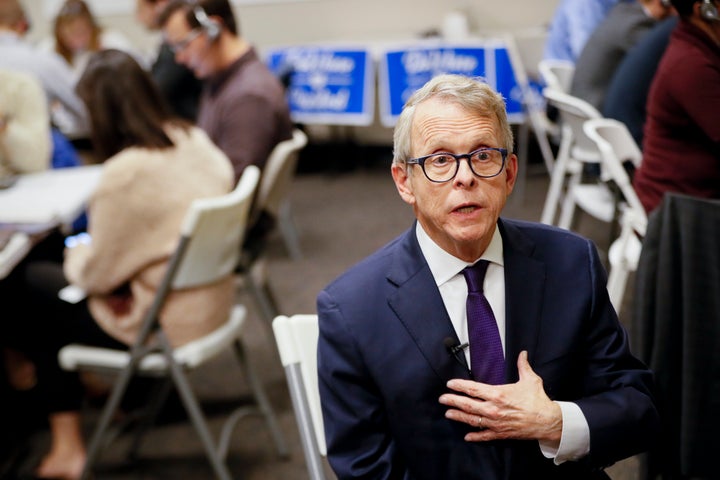 Mike DeWine, a stalwart Ohio Republican, has won the state's closely contested race for governor in a sign that the one of the country's biggest swing states may be permanently drifting to the right.
Although the race was tight, with state Attorney General DeWine and Democrat Richard Cordray constantly trading leads in the polls, it lacked the feverishness of other governor's contests. The race was a matchup of two longtime politicians who represented the older guard of both parties. Neither DeWine nor Cordray, former head of the Consumer Financial Protection Bureau, sought to make the race a referendum on President Donald Trump — Cordray, because he was trying to win over Trump voters with economic promises, and DeWine, to avoid being overtaken by an anti-Trump blue wave.
Still, Tuesday's outcome will reverberate beyond Ohio's borders. In a presidential year, Ohio is the second-largest swing state. Democratic Senator Sherrod Brown easily won reelection on Tuesday. But Republicans have dominated state-level politics since 2010. Cordray competed hard for white voters who supported Democrats' economic messages in the past but voted for Trump in 2016. His loss may be a sign that those voters will not readily return to the Democratic fold and that the rightward drift of Ohio, which is growing whiter and older, has real staying power.
DeWine is a longtime fixture of Ohio politics — from 1995 to 2007, he served as its U.S. senator — and has been Ohio's attorney general since 2011. He joined the conservative legal fight against the Affordable Care Act. And like Gov. John Kasich, his boss and predecessor, he holds a notable record of opposition to abortion rights; Kasich often relied on DeWine's enforcement to shut down Ohio abortion clinics.
In the absence of a big national spotlight, the race became about issues of opioid abuse — Ohio is among the hardest-hit states — economic prosperity, and the Medicaid expansion initiated by Kasich. DeWine, who once sued the Obama administration to block the expansion, has since committed to keeping it in place but with limitations such as a work requirement. He and Cordray also diverged over the state's hard-line approach to opioid use. DeWine fiercely opposed a ballot measure, which Cordray supported, to reduce drug charges against people possessing small amounts of opioids.
DeWine's victory also gives Republicans an upper hand over the all-important 2021 redistricting process and the opportunity to further entrench their gains. After sweeping control of the general assembly in the red wave of 2010, the party used its newfound majority to draw highly gerrymandered voting districts. A May ballot measure requires the next redistricting process to involve bipartisan cooperation but still gives more power to whichever party is in the majority.
Calling all HuffPost superfans!
Sign up for membership to become a founding member and help shape HuffPost's next chapter