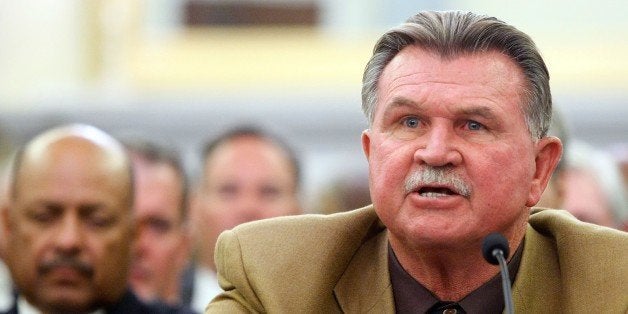 In an episode of "Real Sports with Bryant Gumbel" set to air on HBO on Tuesday, Ditka asks sports reporter Bryant Gumbel if he himself would want his child to play football.
"I wouldn't," Gumbel says. "Would you?"
"Nope," Ditka replies. "I wouldn't. And my whole life was football. I think the risk is worse than the reward. I really do."
A teaser trailer for the upcoming "Real Sports" episode
Ditka's and Gumbel's views are in line with those of fully half the country. A 2014 Bloomberg survey found that 50 percent of Americans don't want their children to play football. Only 17 percent said they expect football to be more popular 20 years from now than it is today.
The "Real Sports" episode will focus on the use of drugs by a team Ditka coached: the NFL 1985 champion Chicago Bears. The NFL named Ditka Coach of the Year for his work that season, but the HBO report claims that Bears players regularly used painkillers and other drugs to play through injuries, much to their detriment later in life.
Ditka confirmed to Gumbel that drugs were "plentiful" during his time in the NFL. "There's no question about it," he said.
A number of Bears were among the 500-plus NFL players who sued the league in 2014 for allegedly providing illegal drugs to injured players so they could stay on the field. Former Bears quarterback Jim McMahon even said he suffered a broken neck at one point in his career but played through it simply because he was never informed of the injury. Instead, he was allegedly given drugs to allow him to keep playing.
The players in the suit claimed that as a result of the drugs, many have had to struggle with long-term drug addiction and deteriorating health in retirement.
"I was provided uppers, downers, painkillers, you name it, while in the NFL," said J.D. Hill, a former wide receiver for the Buffalo Bills and Detroit Lions, in a statement at the time of the lawsuit. "I became addicted and turned to the streets after my career and was homeless. Never took a drug in my life, and I became a junkie in the NFL."
Dave Duerson, a star safety for the 1985 Bears, died of a self-inflicted gunshot wound in 2011 after complaining to his family of severe headaches and memory issues. He was later found to have CTE, or chronic traumatic encephalopathy, a brain disease most often found in people with a history of concussions or other head injuries. There were more than 120 concussions in the NFL in 2014.
Related