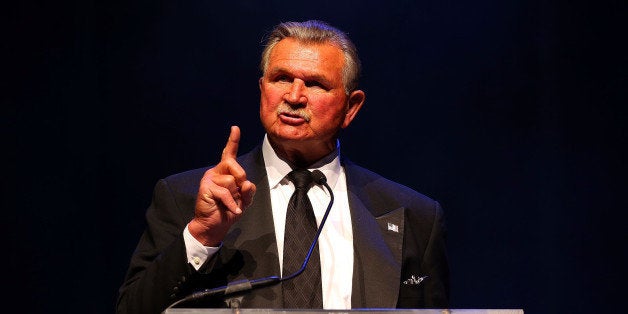 Football Hall of Famer Mike Ditka isn't on the sideline these days, but he is apparently on Dan Snyder's team. The 74-year-old former NFL coach and player lashed out at critics of the Washington NFL team's nickname in a recent interview with RedskinsHistorian.com.
"What's all the stink over the Redskin name? It's so much horse shit it's incredible. We're going to let the liberals of the world run this world," Ditka told Mike Richman on Aug. 14. "It was said out of reverence, out of pride to the American Indian. Even though it was called a Redskin, what are you going to call them, a Brownskin? This is so stupid it's appalling, and I hope that owner keeps fighting for it and never changes it, because the Redskins are part of an American football history, and it should never be anything but the Washington Redskins. That's the way it is."
"Really, I think it's tradition, it's history, it's part of the National Football League. It was about Sammy Baugh and all the guys who were Redskins way back then I didn't think that Lombardi and Halas never had a problem with it, why would all these other idiots have a problem with the name?"
The group of "idiots" Ditka referred to would seem to include the U.S. Patent and Trademark Office. The agency decided back in June to cancel six federal trademark registrations connected to the team's name and described the term "Redskins" as "disparaging to Native Americans."
Calling all HuffPost superfans!
Sign up for membership to become a founding member and help shape HuffPost's next chapter