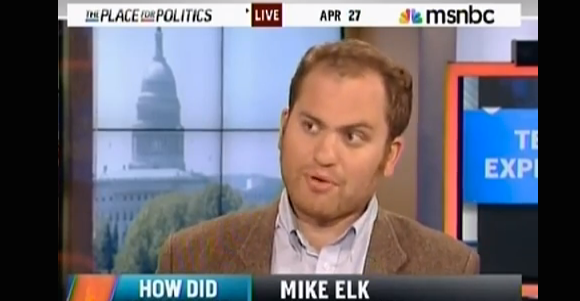 NEW YORK -- Labor reporter Mike Elk appears to no longer work at Politico, a news organization he joined in September and has been trying to unionize since late last year.
Elk's company bio now redirects to Politico's homepage and he is no longer listed on the masthead. An email sent Monday to his Politico address bounced back.
Politico CEO Jim VandeHei and a Politico spokeswoman did not respond to a request for comment on Elk's status.
Elk identified himself Thursday as a Politico labor reporter, as well as a member of the Washington-Baltimore Newspaper Guild, in a statement released by he and other coordinators of an upcoming conference on digital media organizing.
Reached by phone Monday, Elk did not directly comment on his employment situation. His Twitter bio still mentioned being a Politico labor reporter.
"I'm a union organizer," Elk said. "I'm going to go wherever digital media workers need to unionize. I'm going to do whatever I can. The story really isn't about me."
Politico hired Elk in September as the company prepared to launch a new subscription-based Pro vertical devoted to labor and employment coverage.
Marty Kady, editor of Politico Pro, told The Huffington Post at the time that "what outlets people wrote for in the past and what their personal views are, it's out there, but it's irrelevant to how we're going to approach the coverage."
On Friday afternoon, Elk was again pressing the issue, tweeting multiple times about a BuzzFeed report describing how that media company's CEO didn't believe workers there would benefit from a union.
Elk suggested on Twitter that another Politico reporter should put the question about unionizing to VandeHei, COO Kim Kingsley and editor Susan Glasser.
Though neither Elk nor Politico are commenting on his employment status, reports about some of Elk's health issues have been published over the last 10 months.
In late December, Elk described getting panic attacks and voiced concerns about being fired from Politico in an email to colleagues, which was later published by the Washington Free Beacon. He was reportedly missing from the newsroom for about a month earlier this year. In March, Elk told The Daily Caller he suffered from secondary traumatic stress disorder and that Politico had been "very accommodating to me and my need for treatment." Elk wrote a first-person piece about his PTSD on Thursday for HuffPost.
Popular in the Community