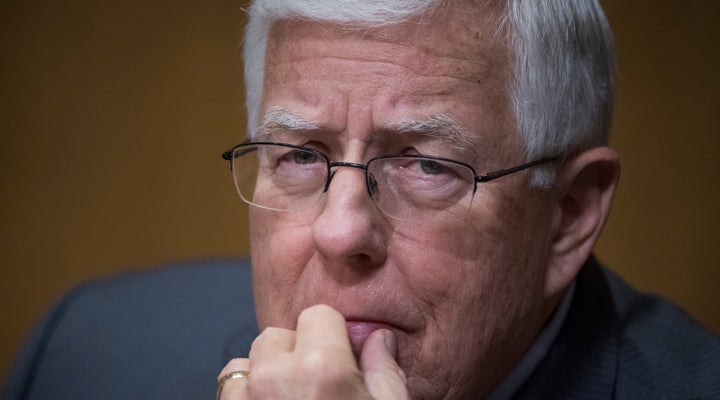 Sen. Mike Enzi (R-Wyo.) told a group of high school and middle school students last week that it's fine to be a member of the lesbian, gay, bisexual, transgender or queer community ― but if you're too open about it, don't be surprised if you get picked on.
On Thursday, Enzi was speaking to students at Greybull High School and Middle School when a student asked him what he was doing to support LGBTQ people in Wyoming. Mathew Burciaga, an editor at the Greybull Standard, was at the event. The Standard published a rough transcript and audio of the event Tuesday evening.
"What work are you and your comrades doing to improve the life of the LGBT community in Wyoming?" the student asked Enzi. "How do you plan to help Wyoming live up to its name as 'The Equality State?'"
"There are a lot of problems that don't have a federal, one-size-fits-all solution," Enzi replied, according to the Standard's transcript. "Everything can't be done by law; that's one of the problems we have in this country, thinking that everything could be done by law. What we need to have is a little civility between people."
"We always say that in Wyoming you can be just about anything you want to be, as long as you don't push it in somebody's face," the senator went on. "I know a guy who wears a tutu and goes to bars on Friday night and is always surprised that he gets in fights. Well, he kind of asks for it. That's the way that he winds up with that kind of problem. I'd be interested in any solutions that you have for how we can make that work better."
"The biggest thing that we need is civility," he said.
Burciaga told HuffPost in an email that he thought the comment was "tone deaf by my own personal opinion of it."
Reached for comment, Max D'Onofrio, a spokesman for Enzi, said the senator stressed the importance of respecting other people and argued that protections mandated by Washington are not always the best solution.
"He talked about how many Wyoming folks take a live and let live approach to life, but we need to be conscious that everyone may not react the same way to differing value and belief systems. He advocates nothing but respect and civil treatment for members of the LGBT community," D'Onofrio said in an email. He added that "no one should take his remarks out of context or misconstrue them to mean anything but advocacy of kindness toward our fellow citizens."
Enzi apologized in a statement, expressing regret for "a poor choice of words":
I believe all individuals should be treated with respect. I do not believe that anyone should be bullied, intimidated or attacked because of their beliefs. Wyoming's population is made so great by its mixture – and tolerance – of differing value and belief systems. Our live and let live approach is one of the great aspects of our state. It is important that our students learn that the importance of respecting all people and how it is incumbent on those in the communities we live in to treat others as you would want to be treated. It is such a simple lesson ― it is never permissible to hurt another. Hatred in any form is destructive to the very foundation upon which our society is built.

No person, including LGBT individuals, should feel unsafe in their community. My message was intended specifically to be about promoting respect and tolerance toward each other. I hope if people look at the entirety of my speech, they will understand that. I regret a poor choice of words during part of my presentation. None of us is infallible and I apologize to anyone who has taken offense. No offense was intended. Quite the opposite in fact, and so I ask for your understanding as well.
Sara Burlingame, the public education and outreach coordinator for Wyoming Equality, also said Tuesday night that Enzi personally called her organization and apologized for his remarks.
"We're grateful to Senator Enzi for his swift apology to the Greybull students and his constituents. We were deeply disappointed to hear of Senator Enzi's remarks to students and teachers at Greybull Middle School and felt confident that it did not reflect his commitment to all citizens, including Wyoming's LGBT population," she said, adding that Wyoming Equality looked forward to sitting down with him when he returned to the state to further discuss matters.
In 1998, Laramie, Wyoming, became the site of one of the nation's most horrific and infamous anti-gay hate crimes when college student Matthew Shepard, 21, was tortured and left to die. Outcry over his death eventually led to passage of the Matthew Shepard and James Byrd, Jr., Hate Crimes Prevention Act of 2009, which extended federal hate crime protections to people targeted because of their actual or perceived sexual orientation, gender or gender identity, or disability.
"Sen. Enzi's comments are exactly the kind of hateful remarks we are working against in Wyoming and beyond," the Matthew Shepard Foundation said in a statement to HuffPost. "To tell a person that they are 'asking for it' is the same kind of harmful rhetoric people use to disqualify the claims of sexual assault victims. It's the same kind of rhetoric that keeps up to 61% of hate crime victims from reporting because they are afraid of not being believed while also having to be fearful of being re-victimized by those in power, who should be defending their rights. The Matthew Shepard Foundation will continue to fight against this kind of hate speech as long as it continues."
UPDATE: April 27 ― Greybull Principal Ty Flock tells HuffPost that Enzi has spoken to him three times since the event and has authorized him to relay that he's apologized to Flock and the school, as well as offered to apologize in person to the student who asked the question. Flock said the student declined Enzi's offer, saying he had already apologized enough.
Want more updates from Amanda Terkel? Sign up for her newsletter, Piping Hot Truth, here.
Popular in the Community