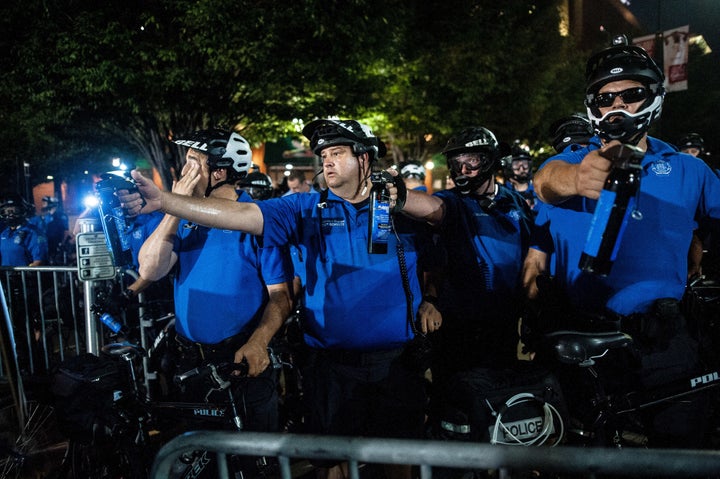 WASHINGTON ― A journalist has filed a lawsuit against the city of St. Louis and its officers, saying police assaulted him during his arrest at a demonstration where they rounded up protesters en masse in an unconstitutional crackdown last year.
St. Louis Post-Dispatch reporter Mike Faulk, 32, was one of the many people the St. Louis Metropolitan Police Department arrested during a protest in downtown St. Louis following a not guilty verdict in a criminal case against a former officer who shot and killed Anthony Lamar Smith back in 2011. That night, St. Louis police officers chanted that the streets belonged to them, and the head of the police department declared they "owned" the night.
The lawsuit, filed on Friday, alleged that police violated Faulk's rights under the First, Fourth, and Fourteenth amendments.
"Mr. Faulk's unlawful arrest and assault by the SLMPD resulted in Mr. Faulk spending 13 hours in the St. Louis City jail and has caused continuing psychological and professional distress," his attorneys said in the lawsuit.
The American Civil Liberties Union had also filed a suit on behalf of several clients over the tactics police employed. It also obtained a preliminary injunction from a federal judge who found that the plaintiffs were likely to prevail in proving police violated their rights protected by the First and Fourth amendments. U.S. District Judge Catherine Perry said in a November ruling that the evidence illustrated that St. Louis Metropolitan Police officers "exercised their discretion in an arbitrary and retaliatory fashion to punish protesters for voicing criticism of police or recording police conduct."
This lawsuit was filed on Faulk's behalf by attorney David Nelson as well as lawyers with ArchCity Defenders, an St. Louis organization, which has done extensive work to fix the fractured and troubled court system in the region.
Faulk, according to the suit, was "raised with a tremendous respect for law enforcement and the justice system," as his mother served in as district attorney in Alabama. Faulk had "previously covered mass demonstrations in the U.S., Nicaragua, and Honduras" but had never been arrested.
That changed in downtown St. Louis. The suit alleges that officers used their full weight to tackle Faulk to the ground and that he sustained injuries to his neck, shoulders, hips and legs.
"One of the Defendant Doe Police Officers... placed his boot onto Mr. Faulk's head and used his weight to press Mr. Faulk's head into the asphalt of the street. Despite cries of pain from Mr. Faulk, the officer continued to press Mr. Faulk's head against the ground," lawyers said in the lawsuit.
Faulk was then directly pepper sprayed in the face, they said, and the "excruciating pain" made it impossible for him to see for two hours.
The lawsuit alleges that Faulk saw officers giving high-fives and smoking cigars. "We arrested more than 100 of you clowns tonight," one officer reportedly said.
The Post-Dispatch, according to the lawsuit prohibited Faulk from reporting on the protests or on any police departments.
"Mr. Faulk now believes that it is unlikely that he can continue his journalistic career in St. Louis because editors concerned about a perceived conflict of interest will not permit him to report on the broad scope of governmental issues for which he was hired. Further, he is significantly less likely to cover protests in the future for fear of assault by police," according to the lawsuit.
Faulk, like other arrestees, is still facing a pending "failure to disperse" charge. The Post-Dispatch has called on prosecutors to drop the charges.
Popular in the Community