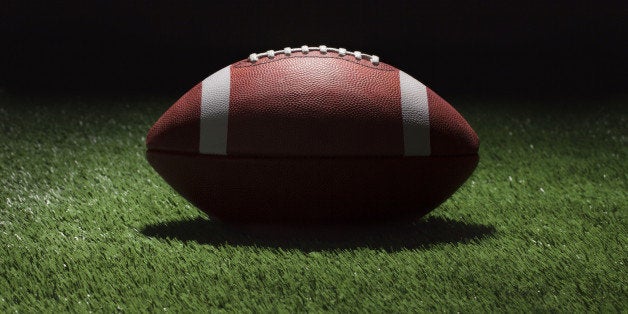 I walked into Target at about 7 p.m. Sunday and I recall seeing only three other men in the store.
One was a 20-something Lionel Messi soccer fan with a fohawk haircut. Another was a trench-coat wearing hipster toting a heart-shaped box of chocolates. And the third was a 17-year-old high school senior, who happens to be the most talented athlete I worked with during six years of coaching youth football.
If I had thought of it, I would have asked Timmy why he wasn't doing what seemed like the rest of America was doing. But Super Bowl 50 didn't come up. Football wasn't mentioned.
Timmy and the 100-plus other boys I coached -- my 16-year-old son among them -- occupy my thoughts a lot these days, as evidence mounts that playing football is generally pretty bad for you.
I think about the violence I urged from their little bodies. I think about their heavy helmets and their comparatively weak necks. And I worry about their developing brains.
Given the Super Bowl once again attracted over 110 million U.S. viewers, it would seem that few of us worry about the grown men who earn a living running, blocking and tackling on Sundays. However, parents are increasingly choosing not to subject their children to the compulsory head trauma that comes with playing tackle football.
The decline would be steeper without "Heads Up Football," a coaching campaign funded by the NFL and spearheaded by youth football's governing body, USA Football. While it claims to be teaching a better and safer way to play the game, "Heads Up" is a marketing ploy, a dusting off of a term and tactic that's forever been a part of coaching the sport.
About a year ago in a column, I called out ESPN radio host Mike Golic for his on-air suggestions that football is as safe as it's ever been and for his unwavering support of "Heads Up." Sunday morning, I called him out again, tagging @espngolic in a tweet that included a link to my December 2014 piece and a photo of a glaringly violent helmet-to-helmet youth football collision.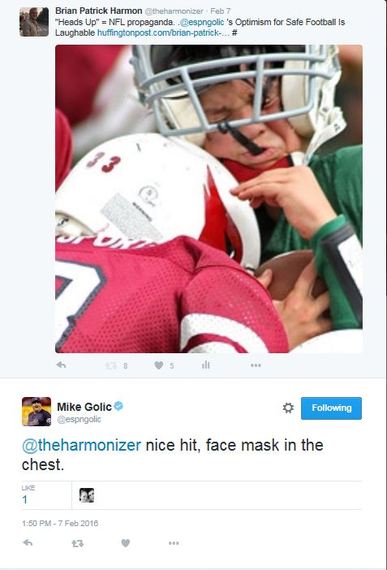 In the photo, part of the tackler's face mask was indeed buried in the ball carrier's chest. Unfortunately though, the crown of the tackler's helmet was smashed into the offensive player's face mask, ear and chin, causing a disturbing distortion of the boy's face.
In defense of the hitter, the kid's "nose is on the ball," an autumn command screamed ad nauseam by coaches at every level on football fields across the country for a century. In defense of Golic, well, there is no defense.
Just last week, NFL Commissioner Roger Goodell spoke on how the "Heads Up" focus on proper technique is making football safer for youths. And here is Golic -- arguably the program's biggest enthusiast -- calling this hideous image of a child under 10 getting completely wrecked, a "nice hit."
Though he never actually called the destruction depicted in the photo "safe," Golic used several tweets to confirm his belief that it was a "fine" hit during two-hour Twitter exchange that ended about two hours before kickoff Sunday.
Golic mockingly called a mother "Dr." in one Tweet, not knowing that her son's brain tested positive for Chronic Traumatic Encephalopathy, a degenerative brain disease caused by repetitive head trauma, following his tragic death in a 2014 motorcycle accident. The woman, Kimberly Archie, links the death of her 24-year-old son Paul Bright -- who played football between the ages of 7 and 17 - to football.
Golic concluded: "how many ways can I tell you the hit is fine."
What particularly concerns me is that Golic and his wife Christine, who is a member of the "Heads Up Football" Advisory Board and an NFL spokeswoman for the program, use their influence to dupe parents into believing that football is being made safer.
"I always encourage moms not to make their decision about their sons playing football based on fear -- fear of what they hear, fear of what could happen," Christine Golic told a crowd of parents and youth coaches at the 2015 USA Football National Conference, according to an article posted on USA Football's website.
Given that it was shown years ago that playing football is strongly linked to CTE, I would hope parents address the fear of what could happen -- head on if you will -- when making such an important decision.
Standing next to his wife at that conference, Mike Golic told the dads in attendance that "The new reality of football starting at the youth level is convincing" mothers "to let your son play," according to the USA Football article. "You have the clay. You are coaching the next Sunday players, so let's teach them the right way. Teach the kids. Lay on the fundamentals."
Judging from his tweets on Sunday, there is certainly a lot to fear about Golic's "right way."
REAL LIFE. REAL NEWS. REAL VOICES.
Help us tell more of the stories that matter from voices that too often remain unheard.