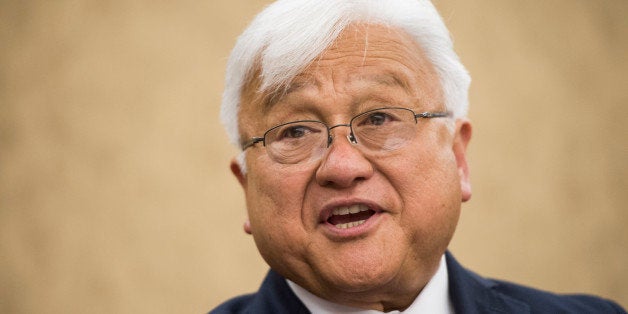 Veteran Rep. Mike Honda has defeated fellow Democrat Ro Khanna in the race to represent California's 17th District in the closest race of the progressive lawmaker's career.
"Today I have a message for those right-wing millionaires and billionaires: You can not buy grassroots," Honda said during a Friday press conference. "You could not buy it this year, and you will not be able to buy it next year either. This District, and our democracy, are not for sale."
The race for the Silicon Valley district was one of this cycle's most heated. Under California's open primary system, the top two vote-getters in each race advance to the general election, setting up an intra-party battle between the two Democrats. Khanna, an attorney who served as a trade representative in the Obama administration, pitched himself as a pro-business, pro-tech alternative to Honda, portraying his rival as ineffective and worn out. Honda, a labor-friendly progressive first elected to the House in 2001, argued that his experience would continue to benefit the Asian-American majority district's working families while accusing Khanna of siding with corporate interests. The two sparred over these issues at an October debate co-hosted by The Huffington Post.
The contrast between the two Democrats was apparent in each candidate's endorsements. Honda picked up support from groups like MoveOn.org, the Sierra Club and Planned Parenthood, in addition to a host of high-profile Democrats including President Barack Obama and California Gov. Jerry Brown. Meanwhile, Khanna secured backing from much of Silicon Valley's tech elite, including Facebook's Sheryl Sandberg, Yahoo's Marissa Mayer and entrepreneur Marc Andreessen.
Khanna congratulated Honda on his win in a statement Friday.
"At a time when it is easy to be cynical about politics, I am inspired by the passion of both campaigns in this unique district," he said. "And I want to thank the voters. So many of them invited me into their living rooms to talk, and some did so even after making it clear that their vote was likely going to be for Mike Honda. That just goes to show that this is a district where voters are fundamentally fair, open-minded, and decent, and I respect their judgment and decision."
Follow HuffPost's liveblog below for more election updates:
REAL LIFE. REAL NEWS. REAL VOICES.
Help us tell more of the stories that matter from voices that too often remain unheard.