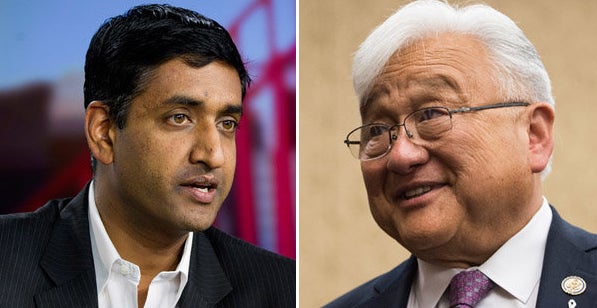 Rep. Mike Honda (D-Calif.) and Democratic attorney Ro Khanna will once again compete to represent California's 17th Congressional District, setting up an intraparty battle in the heart of Silicon Valley. 
Under California's election rules, candidates from all party affiliations compete against one another in the primary race, with Tuesday's top two vote-getters advancing to November's general election. In a reprise of the district's 2014 race, Khanna and Honda came out on top Tuesday. 
Honda, who has represented the Silicon Valley district since 2002, narrowly held onto his seat in 2014 after a bitter contest with Khanna, a former official in President Barack Obama's administration.
The intraparty House race was one of 2014's most contentious. Khanna billed himself as an energetic, tech-savvy alternative to Honda, angling to portray the longtime congressman as ineffective and corrupt. Honda, meanwhile, criticized Khanna as beholden to tech companies, and sought to paint himself as the right choice for Silicon Valley's working families. At a debate co-hosted by The Huffington Post in October 2014, the two sparred over Honda's use of his public office to raise funds for his congressional campaign, Khanna's allegiances to the business community and immigration reform.
That race was one of 2014's most expensive, with approximately $7 million in spending.
After his defeat, Khanna wasted little time before announcing he'd run again this year. The rematch has largely focused on an ethics report released last fall that said Honda and his staffers may have violated congressional rules by using government resources to benefit his re-election efforts. Honda set up a legal defense fund earlier this year, but so far hasn't spent any of the (very little) cash raised. 
Honda lacks support from one of his most important 2014 backers: Obama. While the president backed Honda early in the 2014 race, he's staying out this time around. 
Honda, first elected to Congress in 2000, is pitching voters on his progressive record and touting endorsements from his congressional colleagues. He also seeks to counter the nativist rhetoric of presumptive GOP presidential nominee Donald Trump with accounts of the time he spent in a Japanese internment camp, and vocally supports his transgender granddaughter. 
Khanna, meanwhile, is attempting to broaden his appeal beyond tech, despite winning support from Silicon Valley bigwigs, including Yahoo CEO Marissa Mayer, Salesforce CEO Marc Benioff and venture capitalist Sean Parker. The San Francisco Chronicle reports:
Khanna learned that the hard way two years ago when he ran as the candidate from Silicon Valley, not recognizing that there are plenty of voters in that district who aren't hooked into the tech world.

This time, though, the former Commerce Department official is expanding his reach, going beyond the tech company boardrooms to the council chambers of cities like Sunnyvale and Santa Clara, listening to people concerned about things other than boosting the number of H-1B visas for foreign computer scientists.
"With individuals ready to trample on the middle class bank rolling my opponent's campaign, we know that this is going to be one of the closest Congressional Races in the country," Honda said in a statement Tuesday night. "I am ready to fight tooth and nail between now and November 8th so I can continue delivering for middle class families and turning progressive ideals into results."
"The voters sent a clear message to status quo politicians who are more interested in looking out for themselves and their donors than the people they were elected to represent. Their time is done," said Khanna. "Tonight represents a victory for those who want leadership that offers a new way, not the same old way."
Correction: An earlier version of this story misstated Khanna's role in the Obama administration. 
REAL LIFE. REAL NEWS. REAL VOICES.
Help us tell more of the stories that matter from voices that too often remain unheard.
BEFORE YOU GO
PHOTO GALLERY
Scenes From 114th Congress And Capitol Hill