https://www.instagram.com/thebigfella/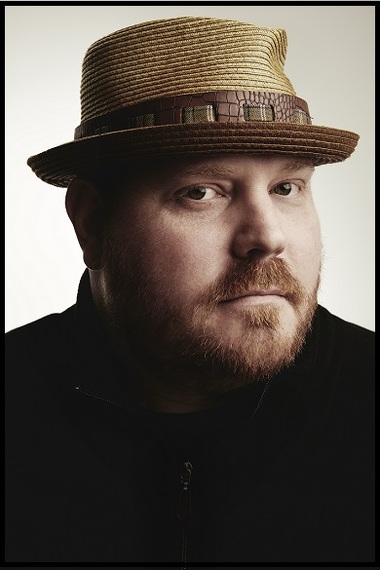 Mike Houston's Website, Twitter & Instagram.
Photo by David Johnson.
If you're reading this, then I already know that you won't be getting much sleep this weekend. On June 17th (somewhere supposedly around 3am ET), Season 4 of Netflix's Orange is the New Black drops.
Enter the new guard, Lee Dixon, played by actor Mike Houston. Immediately upon looking at Mike's picture with the hat, I fell head over heels. I know - it's hard to believe that I think Mike is adorable since he is the total opposite of my twink preference, but just look at this guy! Or maybe it's because he lives in my favorite city of all time, New York City!
Mike Houston can also be seen later this year as 'Louis' in Bette Gordon's film, The Drowning, starring Josh Charles (The Good Wife). Mike will also show up in the new Amazon Original Sneaky Pete.
Oh, did I forget to mention this tiny little tidbit that Mike, along with Amy Schumer, are founding members of The Collective?
On Season 4 of Netflix's Orange is the New Black, you play C.O Lee Dixon, a military vet who takes the job as a guard at Litchfield for the authority and free housing / perks. Tell us about your audition.
It was kind of crazy. I flew to LA to shoot some extra scenes on a project I had previously worked on and I got a call from my agent saying that the casting folks at 'Orange' wanted to know if I could tape an audition for 'Lee Dixon' and have it to them by that evening. I called my friends who were on their way to pick me up to head out for the evening and asked if they could help me go on tape before we headed out. We put together the audition on my iPhone and I sent it on its way. Five days later I got the call that I booked the part. I found it charmingly ironic that after living and working in NYC for 10 years, I got my biggest role to date while working on the other side of the country.
You have some pretty big boots to fill with the earlier OITNB season's guard, Pornstache, having such an effect on the viewers. As an actor, what goes through your mind when this occurs?
I don't think too much about it. Jenji and the entire writing staff have created such an interesting dynamic to Litchfield this season that I feel it would be hard to draw specific comparisons. There are are quite a few new guards that come on the scene this season and bring with them their own unique perspectives, and we all have our little ticks that 'shine through' in different moments with different inmates. Plus, what Pablo Schreiber did with Pornstache was so engrossing and fascinating, he made it impossible to compare. There will only ever be one Pornstache.
You're a graduate of the William Esper Studio in NYC. What made you choose William Esper? What's the most important lesson you learned there?
My headshot photographer when I first moved to NYC, Chris Macke, suggested Bill's studio. It was kind of a word of mouth studio at the time, and when I did some research and learned that some actors I hold in very high regard had studied with Bill, it became a no brainer. Most important lesson I learned was that if you choose to do this kind of work, make sure it's because your heart, mind and soul can imagine doing nothing else.
Who's the best improv partner you've ever had?
Robert Z. Grant, who's also Co-Artistic Director of The Collective and on staff at The Esper Studio. I've never been around someone whose mind works so fast. It really keeps you honest in the moment. You can't get away with bullshit around him.
You're a founding member, along with that chick Amy Schumer, and permanent ensemble member of The Collective http://www.thecollective-ny.org/ . What do you mean 'permanent'?
Permanent means that you've made a commitment to The Collective, so that no matter where your artistic achievement as an individual takes you, you try and work to bring it back to the company in some form to help continue to build on the artistic achievement of the company as a whole. And yes, if you're a permanent ensemble member, it's for as long as you choose to identify as a member of the company.
The Collective's website states "The Collective unites professional artists who share a responsibility to create work in the contemporary American Theatre that is emotionally truthful, socially relevant, and defiantly accessible." What does that mean in laymen's terms and how is that different from any other group of actors that get together?
It means we feel it's our responsibility make sure our art is not only always rooted in emotional honesty and relevant but accessible to anyone. We give away up to half of the seats available for all productions via generous donors because we feel that an empty seat is a wasted opportunity to engage and invite people into the conversation.
I think what may separate us from other groups is our sustainability and drive to tell stories in an original, organic way that strays from a traditional 'season' model that most theater companies follow. We started a decade ago meeting for three hours on Mondays to hone our craft as actors and to develop new work. In those 10 years, anything that The Collective has produced has come through our Monday sessions. Those sessions determine what we want to produce and when and how to do it.
What comebacks do you have when people make fun of your last name?
Ha! Yeah, Apollo 13 really made things interesting for me. My main go to with Apollo is 'yup, you haven't moved on from the 90's'. As for Houston Street here in NYC (pronounced HOW-ston for some crazy reason), I just remind folks that there are about 2 million people from a little town in Texas that might tend to disagree with that pronunciation.
Anything else you'd like to say?
I just want to encourage anyone reading this to do whatever you can to help keep the arts in public schools. Creativity is a crucial outlet for kids to express their confusion, sadness, rage, fear, love and kindness, especially with what we're experiencing in this world right now. It gives a voice to many who may not think they have one, so please fight for it.
Also, you can catch me on the new Amazon original series 'Sneaky Pete' once it's released next year. The Collective has a show coming up in the Hollywood (6/17-18) and NYC Fringe festivals called 'Pryor Truth' created by ensemble member Khalil Muhammad and developed with ensemble member Victoria Dicce. We're also producing our 4th Annual C:10 festival beginning in September, so keep an eye out for tickets. Thanks for the time!
Calling all HuffPost superfans!
Sign up for membership to become a founding member and help shape HuffPost's next chapter