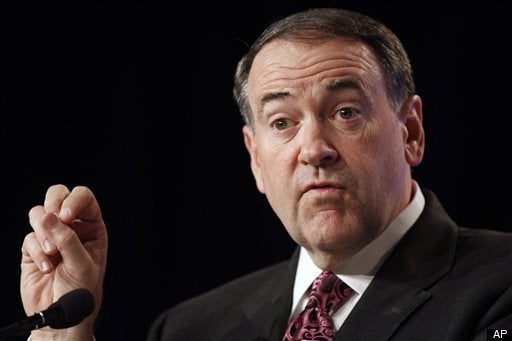 A Wall Street Journal profile of Bob Vander Plaats, onetime Iowa gubernatorial candidate turned social conservative political fixer, is getting attention today for what Vander Plaats has to say about Mike Huckabee, who's generally thought to be among the front-runners for the GOP nomination, but whose commitment to the task hasn't exactly materialized.
Vander Plaats has been something of a go-to sherpa for the presidentially ambitious in Iowa, and he sizes up the state of play thusly:
"I have told many of these candidates that they may make Huckabee's decision for him," Mr. Vander Plaats said. "If a Pawlenty or Thune or Bachman catch fire among the base, I could see Huckabee saying, 'I think I will sit this one out.'"
"I'm not convinced he's running," state Sen. Kent Sorenson of Indianola, a key Huckabee backer, told the Des Moines Register.

Huckabee's 2008 campaign manager Chip Saltsman is now chief of staff for freshman Rep. Chuck Fleischmann (R-TN). And his caucus campaign manager Eric Woolson is nervous about the delay.

"It's going to be too late for some candidates to be successful if they don't get started soon, and they won't know it's too late until it's already too late," Woolson said. "I'm not saying they have to formally announce. I'm saying there's a lot of groundwork that needs to be done, and every day that passes is a day they won't get back."
As Ben Smith says, "This is why fence-sitters usually stay there." (But it sounds to me like Huck's going to have some beautiful fences.)
Calling all HuffPost superfans!
Sign up for membership to become a founding member and help shape HuffPost's next chapter