Former Arkansas Gov. Mike Huckabee (R) announced on Monday that he is suspending his presidential campaign, following a poor performance in the Iowa caucuses.
He entered the race on May 5, claiming he would "conquer Jihadism" and protect Social Security.
Huckabee had a show on Fox News that ran from 2008 to January 2015, ending ahead of his campaign launch.
Huckabee previously ran for president in 2008 but had to drop out of the race because of a lack of funding. Critics said he could be a stronger contender this time around because of his connection to conservative evangelicals, as well as the influence he accrued while working for Fox News. 
Huckabee, an ordained Southern Baptist minister, has maintained resolutely conservative stances on a variety of policies, including lesbian, gay, bisexual and transgender issues. He opposes adoption by gay couples and outlawed same-sex marriage when he was governor of Arkansas
When Kim Davis, the Kentucky county clerk who made headlines this year after refusing to issue marriage licenses to gay couples, was thrown in jail, Huckabee was vocal in his support of her.  Forcing her to carry out her job despite personal reservations was "judicial tyranny," according to Huckabee.
He caused public outcry earlier this year with his comments about transgender individuals, when he said that if he had known about transgender people when he was a teenager he would have used being transgender as an excuse to "shower with the girls." Huckabee continued by saying transgender individuals using public restrooms could be a threat to children who use the same restrooms.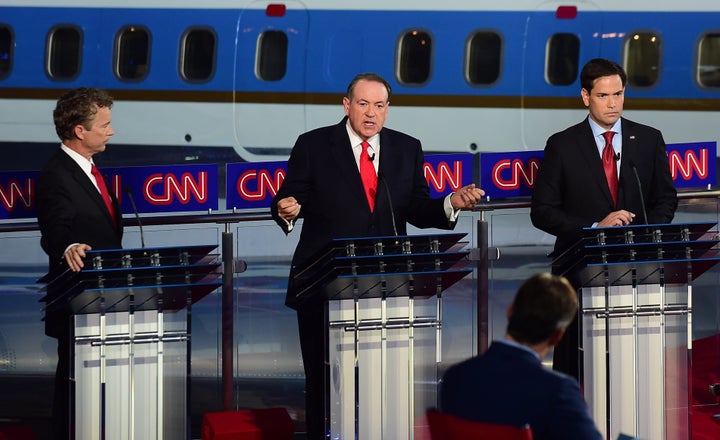 "What are we saying to the generation coming after us when we tell them that it is perfectly OK for one person to own another human being?" Huckabee said in 2009. "I thought we dealt with that 150 years ago when the issue of slavery was finally settled in this country."
Huckabee has has often made bizarre comments on foreign policy issues. In one recent interview about President Barack Obama's plans for the Middle East, Huckabee said, "It is so naive that he would trust the Iranians," before making an inappropriate comparison to the Holocaust.
"By doing so, he will take the Israelis and march them to the door of the oven," Huckabee said.
PHOTO GALLERY
Declared 2016 Presidential Candidates
Calling all HuffPost superfans!
Sign up for membership to become a founding member and help shape HuffPost's next chapter