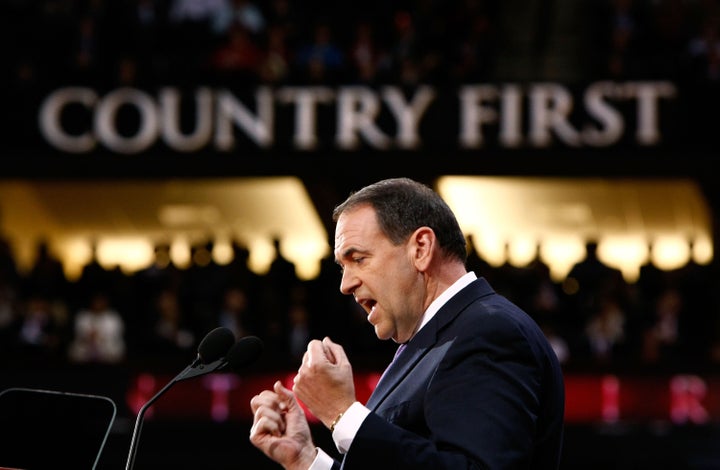 Former Arkansas governor Mike Huckabee compared abortion to slavery while speaking at a fundraiser for an anti-abortion group on Monday night, the University of Tennessee's Daily Beacon reports.
"It was wrong to own a slave in Mississippi and Michigan," explained the potential 2012 presidential contender on the thought of the issue being addressed on the state level. "This is not a states issue."
The remarks from Huckabee came in the event's keynote speech. The fundraiser was held for the Center for Bioethical Reform at the Knoxville Convention Center.
Tennessee-based station WBIR reports that Huckabee described abortion as an issue that "transcends all" political issues." According to the local outlet, he said, "I often said I would gladly lose an election before I would ever yield on the issue of the sanctity of human life."
WBIR reports that protesters demonstrated outside the event because "the Center for Bio-Ethical Reform is known for posting images of aborted fetuses on the UT campus as part of its anti-abortion campaign."
In March of 2009, Huckabee also delivered a speech to an anti-abortion group in which he compared abortion to slavery. The AP reported at the time:
Huckabee said that when it abolished slavery, the U.S. debated and decided it was immoral for one person to have complete, life-or-death power over another. He said that should not change whether the control involves racial bigotry or a pregnant woman making a decision for her unborn child.

"What are we saying to the generation coming after us when we tell them that it is perfectly OK for one person to own another human being?" Huckabee said. "I thought we dealt with that 150 years ago when the issue of slavery was finally settled in this country, and we decided that it no longer was a political issue, it wasn't an issue of geography, it was an issue of morality. That it was either right or it was immoral that one person could own another human being and have full control even to the point of life and death over that other human being."

He said civilization cannot survive if "one group of people have life and death control over another for no particular reason other than their own conveniences and, in that case, prejudices."
Via WBIR comes a clip of Huckabee's more recent remarks.
Popular in the Community