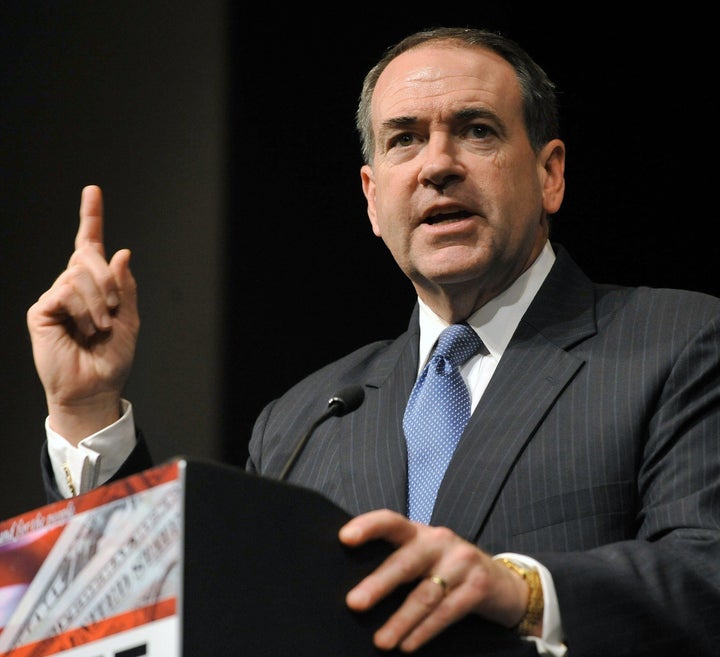 WASHINGTON -- Former Gov. Mike Huckabee (R-Ark.) became one of the most high-profile Republicans to express skepticism with the war in Afghanistan, telling reporters on Wednesday that he sees no "end game" in sight, has no confidence in President Hamid Karzai, thinks the country looks "like the surface of the moon" and believes the time has come for an honest, non-political conversation about the next steps.
"I don't know [what to do next]," Huckabee said at an afternoon talk organized by the Christian Science Monitor. "I don't think any of us know exactly. We are there. The question is, I'm asking people, 'Tell me, what is it we do to say we are done? Help me to understand that because I'm not sure.'"
"My doubts about Afghanistan happen from being there in January 2006," he said earlier. "And when I say my doubts I believe our military is capable of doing whatever they are assigned to do given the resources to do it. But I came away from that experience wondering: What does the end game look like here? I can't see a conclusion."
In making the remarks, the Arkansas Republican provided the first definitive hint that the Afghanistan war could become a point of fissure, both within the Republican presidential primary and possibly the general election. The one other White House aspirant on the GOP side of the aisle who has expressed similar reservations -- Rep. Ron Paul (R-Tex.) -- has a devoted following but is still (perhaps unfairly) treated as a long-shot libertarian.
On Wednesday, however, Huckabee was echoing the very same lines of concern that followers of Paul have come to know well.
"You go to Afghanistan, you look around and you say, 'My gosh, am I in a country or on the surface of the moon?" he said. "You honestly could not see what it is that can happen here. You can't grow anything but poppies. The cash crop is essentially developing the basis of heroin for Europe... and the government is so incredibly and hopeless corrupt. And I don't see that changing any. I don't know of anyone who says 'what a great bunch of people we have over there, running the thing.' I mean we all, even our own administration, whether it is Bush or Obama, kind of throws up their hands and thinks that the Karzai government is mindlessly corrupt."
Beyond the pool of potential presidential aspirants, skepticism over Afghanistan inside the GOP is certainly growing. Former Reagan Administration Assistant Secretary of Defense Bing West released a new book this week, titled "The Wrong War" in which he builds the case that nation building in that country is a fruitless enterprise.
What's telling about Huckabee's remarks is the sense they portray that, within the Republican Party, there is some political gain to striking an anti-war stance. Paul, certainly, is adored by the Tea Party faithful for preaching more of an isolationist approach to foreign affairs. And at the Conservative Political Action Conference gathering this year in D.C. it seemed clear that skepticism of the war had grown more tolerated if not popular.
There are, of course, larger geopolitical elements to consider with the commentary. And should Huckabee actually find himself even on the brink of winning the presidency he may have to be a touch more diplomatic about his talk of Karzai's corruption.

Popular in the Community