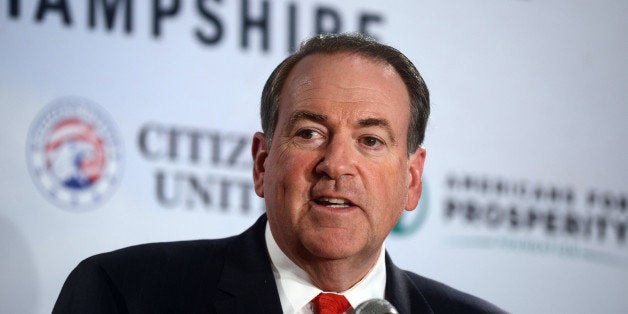 Former Arkansas governor, Fox News host and potential 2016 presidential candidate Mike Huckabee teased a big announcement he was going to make in his Saturday evening show, four years after he told his audience he would not to run for president.
Earlier on Saturday, Huckabee posted on Facebook that in his 8 p.m. EST show he would make a "very important announcement," whipping up speculation that he will reveal his plans for 2016. He tweeted, "you can watch tonight or read about it tomorrow."
Huckabee has signaled that he is open to a run in recent months. The Republican "is reconnecting with activists and enlisting staff to position himself" and scouting real estate for a presidential campaign headquarters, the Washington Post reported in November. With respect to finances, Huckabee said he was in a better place to run, according to the Washington Examiner. Earlier in 2014, Huckabee contrasted himself to another expected candidate, Hillary Clinton, criticizing her track record on foreign policy, Politico reported.
Huckabee won the Iowa caucuses in 2008, but his bid for the Republican nomination failed. In 2011, he teased his audiences with an announcement in a similar fashion, but ended up saying he would not pursue the 2012 presidential nomination.
As the Post noted, Fox News terminates its relationships with commentators when they launch a bid for office. A Fox News executive said the network was scrutinizing Huckabee's political activity and "evaluating his current status," CNN reported. An unnamed Fox News spokesperson told TV Newser that Huckabee will be ending his television show as he explores a presidential bid.
Supporters of Rand Paul (R-Ky.), who is expected to announce his plans to run for the Republican nomination, were apparently buying up ad space for Google searches on "Huckabee announcement" and "Huckabee common core," CNN's Ashley Killough pointed out.
Popular in the Community