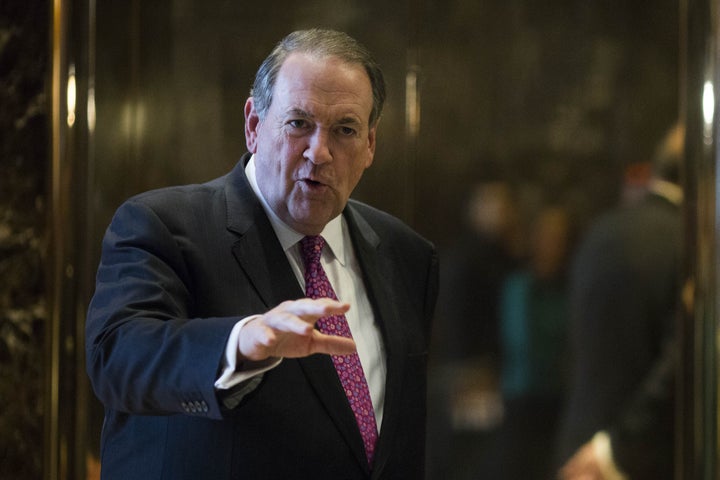 Asked during a brief interview whether he shared the concerns of Ohio Gov. John Kasich (R) that Trump had created a "toxic environment" by frequently imploring his supporters to respond violently to protesters, Huckabee scoffed.
"No, I think it's ridiculous to blame Trump for a bunch of thugs out on the street-- people coming in and trying to shut down somebody else's speech," Huckabee told The Huffington Post. "If they don't like Donald Trump, vote for somebody else, and don't show up. And leave the place with empty seats. But to try to shut someone down, that's not how America works."
Huckabee's use of the word "thugs" to describe the Chicago protesters echoed Trump's own language. "The organized group of people, many of them thugs, who shut down our First Amendment Rights in Chicago, have totally energized America!" the real estate mogul said in a Twitter post.
The former Arkansas governor has been increasingly vocal in defending Trump in recent weeks.
"It was clearly a very orchestrated, organized attempt to shut down Trump's rally, and I think it's really indicative that the left in America -- they're not interested in diversity, tolerance or free speech," Huckabee said. "If there's an idea that's not theirs, their response to it is not to overwhelm it with more votes. It's to shut down the other side. And that was really unfortunate."
The Florida resident said that he had already taken advantage of early voting in Tuesday's state primary but would not say which candidate earned his support.
"I was on the ballot in Florida, you know," he reminded a reporter.
Before You Go
Donald Trump Rally Shut Down In Chicago
Popular in the Community