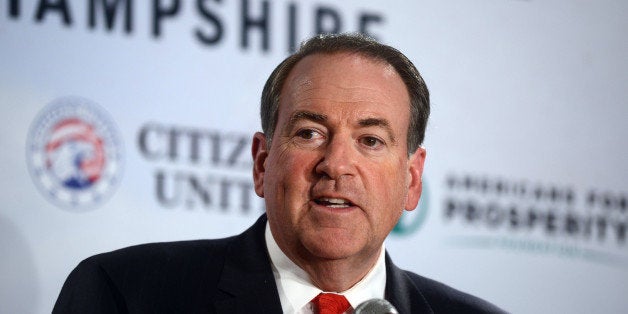 WASHINGTON -- Mike Huckabee says it's not an issue that Wisconsin Gov. Scott Walker (R) doesn't have a college degree.
Walker, a potential 2016 presidential candidate, dropped out of Marquette University in 1990, just one semester shy of graduating. If he wins the presidency, he'd be the first person without a college degree to do so in more than 60 years.
Former Arkansas Gov. Mike Huckabee is a possible rival of Walker's in the race for the Republican nomination and has seen surging support in several key primary state polls. Asked earlier this month whether lacking a college degree would hurt Walker's chances in the primary, Huckabee said it would not, though he would ultimately face questions from the media.
"No, I think that's something he'll have to address as to why, because it'll come up," the former governor said in a Fox radio interview. "Not that I think Republicans will care and a lot of voters won't, but the press will bring it up, he'll have to contend with it and deal with it. But it's not going to be, I don't think, the defining issue."
But Huckabee, who graduated in two and a half years with a bachelor's degree in religion, wasn't always so forgiving.
In 2002, the incumbent governor faced a stronger-than-expected, though ultimately unsuccessful, challenge from state treasurer Jimmie Lou Fisher (D), then a pioneering female politician in Arkansas. As the campaign rolled into the fall, debate over crime, the education budget and fiscal responsibility gave way to bitter sniping and character attacks over ethics and Fisher's resume.
Huckabee accused Fisher of inflating her academic credentials on her campaign website, which is no longer online. A Huffington Post review of an archived version of the site revealed that its biography section said Fisher "attended Arkansas State University." While Fisher did attend, she dropped out without completing her degree in order to tend to a sick child.
The site also called Fisher a "1985 graduate of the John F. Kennedy School of Government at Harvard University, Senior Executives Program." The three-week program offers officials management training to become more effective public managers.
"If you check her Web site, it says she is a graduate from the Harvard School of Law. The truth is, she took a three-week course," Huckabee said at a campaign stop in October 2002, according to the Arkansas Democrat-Gazette.
But Huckabee didn't stop there. Two weeks before the general election, he once again attacked Fisher for inflating her resume. Only this time, he went a step further and criticized her for lacking a degree.
"Folks, if three weeks at Harvard makes you a Harvard graduate, then I've visited the Space Center, you all are looking at an astronaut tonight," Huckabee said during a rally in Russellville, according to The Courier-Democrat. "If you're going to lead education in this state, you need to get some. And, you need to be honest."
Vincent Insalaco, Fisher's campaign manager at the time, denied that the candidate had embellished her credentials and accused Huckabee of lying. In an interview with HuffPost last week, Insalaco, who is currently the chair of the Arkansas Democratic Party, said that Huckabee had "absolutely" made a big deal out of the fact that Fisher did not have a college degree. He also said the governor had used the line of attack in several campaign commercials.
Fisher is currently retired and was not available for comment for this story. A request for comment with a spokesperson for Huckabee was not immediately returned.
Much has been made of Walker's decision to drop out of college. Some pundits have raised questions as to whether a college degree should be a prerequisite for the presidency, while others have dismissed those concerns by noting many Americans went to college but did not graduate.
Walker recently pushed back against those who questioned his credentials, calling the criticism "elitist."
"That's the kind of elitist, government-knows-best, top-down approach we've had for years," he said in a Fox News interview last week. "I'd rather have a fighter who's proven he can take on the big government interests and win."
Calling all HuffPost superfans!
Sign up for membership to become a founding member and help shape HuffPost's next chapter
BEFORE YOU GO
PHOTO GALLERY
Potential 2016 Presidential Contenders