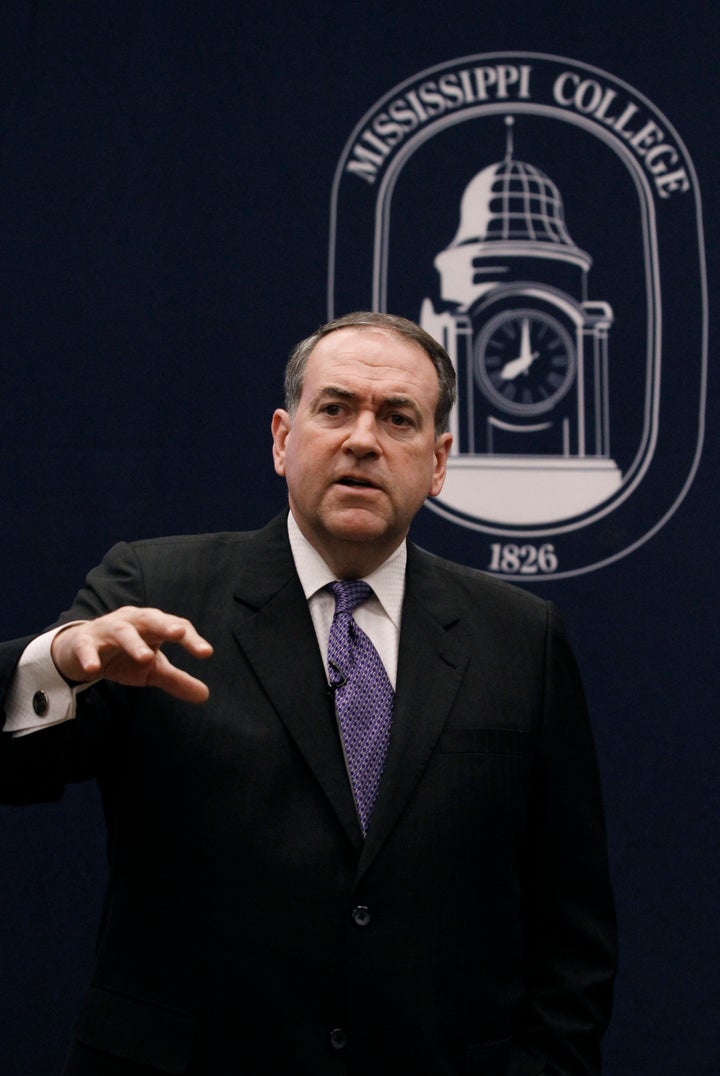 UPDATE, 4:11pm: Mike Huckabee is disputing reports that suggest Fox News has imposed a decision deadline on him. Per Andy Barr:
Citing GOP operatives, RealClearPolitics reported Thursday that the network has given Huckabee until the end of May to opt against a run or lose his lucrative contract as a cable pundit.
Continue Reading

But Huckabee's top aide told POLITICO that the network has imposed no such deadline.

"The governor has been clear — his timeline for a decision is this summer and that has not changed," said HuckPAC executive director Hogan Gidley. "Fox is aware of the governor's timetable and he is aware of his limitations in considering another run."
If you've been waiting for former Arkansas Governor Mike Huckabee to finally make up his mind and enter the race, well ... you're probably one of a number of people who imagined that by this point, Huckabee would have an active campaign structure on the ground in the early primary states. Huckabee, so far, has remained aloof -- most days, he seems to be more excited by the fact that he's considered a frontrunner than he is about doing any actual frontrunning.
But here's some good news for people who heart Huckabees! Huckabee's employer, Fox News, has given him until the end of the month to come to a decision. Per Erin McPike, at Real Clear Politics:
For months, the political class has believed that Huckabee would not run in the 2012 election cycle because he wasn't taking any organizational steps. (Activists in New Hampshire, too, said in March that his messaging was off, which suggested to them he would stay out.) That has changed, and a scheduled appearance at the Republican Leadership Conference in Louisiana in June and a fundraiser Wednesday in Washington are part of the latest evidence.

According to a confidant of [Huckabee campaign chairman Ed] Rollins who has been slated for a high-level position in the potential campaign, "Ed has had long and serious discussions with Mike as recently as this past weekend." Rollins would manage the first phase of the Huckabee campaign this time.

[...]

Now, he may have to offer his decision by the end of the month. Republican operatives familiar with the deliberations at Fox News say that the network has told Huckabee he has until the end of the month to make up his mind about the race or he'll be cut off, just as Newt Gingrich and Rick Santorum were when the then-contributors were still in the consideration phase.
Just week ago, an announcement that Huckabee was "releasing his political operatives" in South Carolina so that they could "work for other candidates" fueled rumors that Huckabee was done with his presidential flirtations. But as Jon Ward reported, a closer examination of what Huck was up to actually increased the probability that he was going to enter the race. Per Ward: "if it is true that Huckabee is setting potential campaign workers free, [it] may be that he is letting them go in order to instead snatch up operatives who were working for Mississippi Gov. Haley Barbour until his decision Monday not to run." Huckabee had previously said that he coveted Barbour's extensive "Rolodex."
And while Huckabee's kept himself at a remove from the hullabaloo of the 2012 campaign cycle, he's been a constant presence where it counts: at the top of the polls. There's significant voter support out there for Huckabee to inherit -- the question is, has he dithered too long to capitalize on it?
In any event, Fox laying down the law is a significant development. The fact that the cable news network found it necessary to cut Newt Gingrich loose is one of the few things that points to the idea that Gingrich will end his sixteen-year period of agonizing and actually run for the White House. In related news, the fact that such an ultimatum hasn't been directed at Sarah Palin is strong enough evidence to suggest that a Palin 2012 campaign is not in the cards.
Calling all HuffPost superfans!
Sign up for membership to become a founding member and help shape HuffPost's next chapter