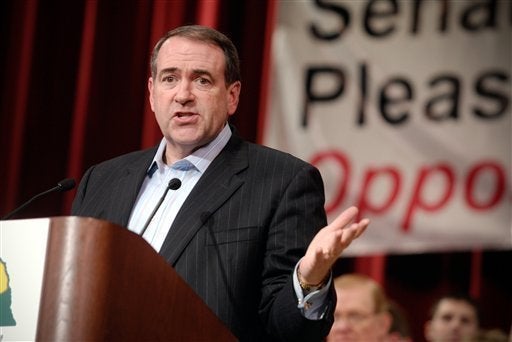 Gay rights groups are shooting back at former Arkansas Governor Mike Huckabee's recent claims that an inherent "ick factor" of homosexuality plays a part in his opposition to same-sex marriage.
According to a forthcoming New Yorker interview released online Monday, Huckabee said, "We can get into the ick factor, but the fact is two men in a relationship, two women in a relationship, biologically, that doesn't work the same."
Human Rights Campaign Vice President Fred Sainz told Politico that he wasn't surprised by Huckabee's comments, and called the 2008 -- and perhaps 2012 -- Republican presidential candidate "a man who is consistently wrong and uninformed."
"Ick is being fired from a job, being the victim of a hate crime or being bullied at school simply because you are lesbian, gay, bisexual or transgender," Sainz told Politico. "And ick is certainly an appropriate way to describe Mr. Huckabee's mind going to sex when all that we are asking for is our equality. Ick, indeed."
Denis Dison, Vice President of the Gay & Lesbian Victory Fund, also responded to the comments, writing in an email to Politico:
"The man keeps putting his foot in his mouth...Talk about 'ick factor.' One can only guess Gov. Huckabee has discovered he gets more press hits every time he says something stupid about gay people."
Huckabee has exhibited a penchant for making inflammatory statements concerning gay rights. In an April interview with the College of New Jersey's student publication, the Perspective, the former Governor compared gay adoption to experimentation and reminded reporters that "Children are not puppies."
During the same interview, Huckabee said that "accomodat[ing]" advocates of same-sex marriage was no different than appeasing proponents of polygamy, illegal drug use and even incest.
Popular in the Community