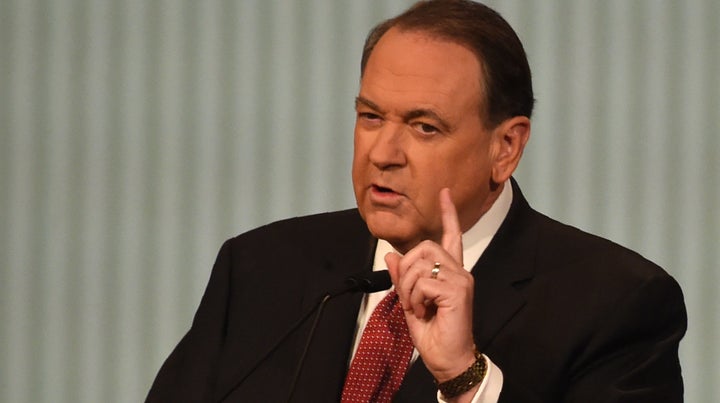 Mike Huckabee believes that "all lives matter" ― and now the former governor of Arkansas has taken the misguided response to the Black Lives Matter movement even further astray, declaring that "male lives matter."
In an interview on Fox News on Sunday, Huckabee referred to data collected by the Washington Post that shows out of the 990 people shot by police in 2015, 948 were men. Of those men, 494 were white and 258 were black. "If we have a shooting, we end up assuming that it had to be racial," Huckabee lamented. "Leaders have a responsibility to keep things in perspective." 
Huckabee appears to have cited the Post's findings that of the 990 people shot in 2015, 948 people were male, 494 were white and 258 were black. So using raw numbers, Huckabee's claim is accurate.

But as we often warn readers, criminal justice trends generally are calculated by rate, rather than raw numbers. A per capita calculation of crime gives a more accurate representation of the risk of certain crimes to a community, rather than raw numbers.

In this case, looking at crimes simply as the raw number of white people affected vs. the number of minorities affected is misleading. By definition, there are fewer minorities.
When Ye Hee Lee reached out to Huckabee for comment, the former governor ― somehow ― said another extremely offensive statement. Instead of focusing on race, Huckabee changed gears to add some sexism to his racism. 
Through his spokesperson, Huckabee told the Washington Post:
It's not me that needs to be "fact checked." It's the Post — I only said exactly what YOU reported. My comments were 100 percent factual. The pure facts also reveal that 94 percent of those killed by police are men, so by your "proportional" standards, the real movement in America should be "Male Lives Matter."
Calling all HuffPost superfans!
Sign up for membership to become a founding member and help shape HuffPost's next chapter
BEFORE YOU GO
PHOTO GALLERY
24 Times Sexism Was Very Very Real In 2015