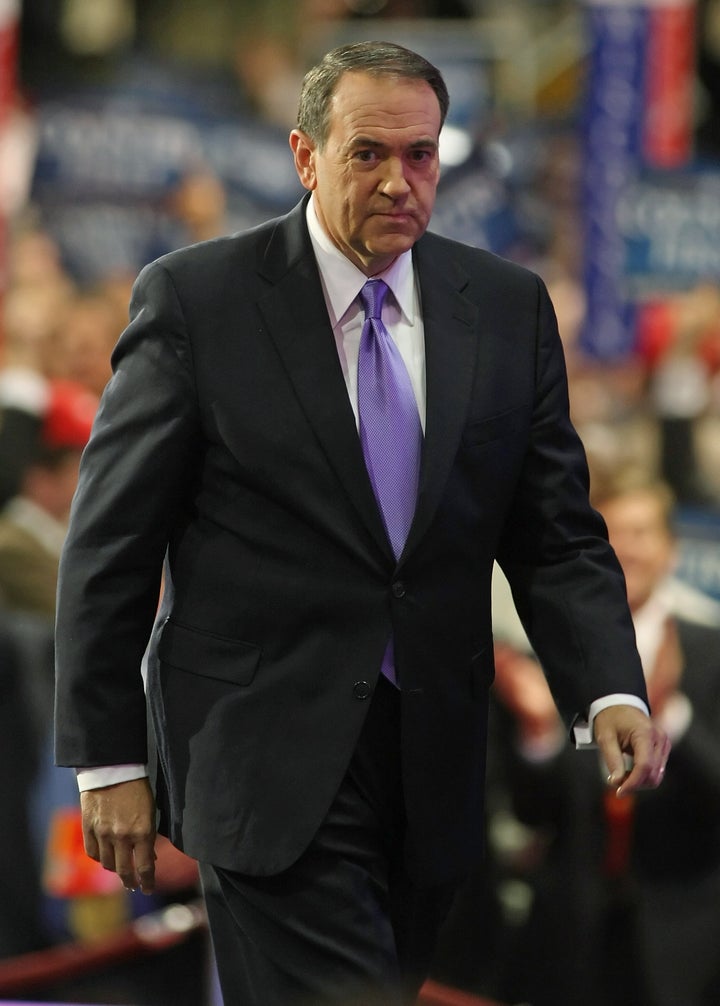 WASHINGTON – Former Arkansas Gov. Mike Huckabee said Saturday he will not run for the Republican presidential nomination, a significant development that removes one of the potential front-runners from contention and brings the slow-moving GOP primary process into sharper focus.
"All the factors say go, but my heart says no and that's the decision I have made," Huckabee said at the end of his hour-long weekly television program on Fox News.
Huckabee spent a few minutes knocking down rumors that had flown about why he would or would not run for president. He said his wife and children had encouraged him to run. He said the polls had shown he could be a serious contender and that he could win voters outside the south and in addition to social conservatives. And despite his well-known aversion to asking for money, he said he had become convinced he could raise the necessary money.
"I had come to believe I would be in the race," Huckabee said.
"The external signs … point strongly toward running," he said. "But only when I was alone, in quiet and reflective moments, did I have not only clarity but an inexplicable inner peace."
Huckabee said his decision was not financial, but the wealth he has generated off book sales and his contract with Fox News -- and the ongoing construction on an expensive home in Florida -- will doubtless be considered by many a major factor in why he did not run.
There were other reasons many expected Huckabee to decline a run for president. He would have faced legal obstacles if he were to announce a run for president on his Fox News show. And a top adviser, Ed Rollins, said late in the week that he did not think Huckabee would run.
But Huckabee did his best to keep the political world on its toes. He said in interviews Friday that people who said they knew what his decision was were speaking out of turn. And in an email to friends and aides that leaked Saturday, Huckabee said that "once I pull the trigger Saturday night, things will get even crazier, as if that's possible."
Huckabee is an ordained Southern Baptist minister who won the Iowa caucuses in 2008, and his decision not to run again opens the door for other social conservatives. Perhaps no one will benefit more than Rep. Michele Bachmann (R-Minn.) if she decides to run. She has the capability -- probably more than any other potential GOP candidate -- to unite social conservatives in Iowa in the manner Huckabee did last election.
But it is also likely -- even if Bachmann runs -- that the social conservative vote in Iowa will be more splintered in 2012 than it was in 2008, with votes going to former Minnesota Gov. Tim Pawlenty, former House Speaker Newt Gingrich (R-Ga.), former Godfathers Pizza CEO Herman Cain, and former Pennsylvania Sen. Rick Santorum. A divided vote could benefit other more moderate candidates like Pawlenty, former Utah Gov. Jon Huntsman, Indiana Gov. Mitch Daniels, if he decides to run, or former Massachusetts Gov. Mitt Romney, if he decides to campaign in the Hawkeye State.
"The Iowa caucus front-runner has just decided against running. It's wide open, folks," wrote Tim Albrecht, a spokesman for Iowa Gov. Terry Branstad, a Republican, on Twitter soon after the announcement.
Other potential candidates, eager to draw Huckabee's support or endorsement, were quick to praise him.
"Our country has been very fortunate to have Mike Huckabee as a leader and public servant. His commitment to this country and its core values - life, liberty, and the pursuit of happiness - is a model to which all elected officials should aspire," Huntsman said in a statement. "It is unfortunate that we will not have his voice - or his bass guitar - in the presidential debate, as our party would have benefited from his involvement."
Pawlenty called Huckabee "an important leader within the Republican Party."
"Mike and I agree our nation is facing big challenges and desperately needs new leadership, and I plan to work hard to earn the support of the millions of Americans who have supported him," Pawlenty said.

Popular in the Community