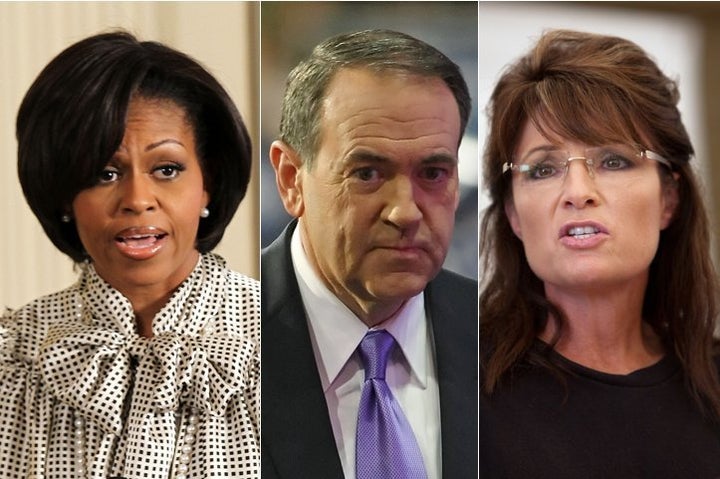 Former Arkansas Governor Mike Huckabee took a moment on Tuesday to counter Sarah Palin's recent claim that Michelle Obama is out to rob children and parents of their rights to eat dessert.
"With all due respect to my colleague and friend Sarah Palin, I think she's misunderstood what Michelle Obama is trying to do," Huckabee said Tuesday during a radio appearance the "Curtis Sliwa Show."
On Sunday's episode of "Sarah Palin's Alaska," the state's former governor quipped on a camping trip that she planned to make her family s'mores "in honor of Michelle Obama, who said the other day we should not have dessert," an apparent jab at the first lady's anti-obesity campaign, which does include, among other things, an encouragement that American families attempt to find dessert replacements.
Huckabee, who has struggled with weight issues himself and had taken up marathon running and managed to lose significant weight through exercise (another staple of Michelle Obama's initiative), wanted to make clear that the program is not, as Palin has claimed, simply a move to try to get big government on "our back."
"Michelle Obama's not trying to tell people what to eat or not trying to force the government's desires on people," Huckabee said. "She's stating the obvious, that we do have an obesity problem in this country."
Childhood obesity has more than tripled in the past 30 years. The prevalence of obesity among children aged 6 to 11 years increased from 6.5% in 1980 to 19.6% in 2008. The prevalence of obesity among adolescents aged 12 to 19 years increased from 5.0% to 18.1%.
Huckabee then expressed some worry that America's armed forces would be seriously crippled by the ongoing issue of obesity, and explained that the problem started with a system of incentives in which children received sugary foods for good behavior and were punished with vegetables.
Popular in the Community