TAMPA, Fla. -- Next to President Barack Obama, there are probably few people more unpopular at the Republican National Convention than Democratic National Committee Chair Debbie Wasserman Schultz, who is also a congresswoman from the state of Florida.
So it was hardly surprising that former Arkansas Governor Mike Huckabee scored some easy laughs from the Republican Party faithful on Wednesday night with a joke about her.
"Tampa has been such a wonderful and hospitable city to us," Huckabee said in his speech to the convention. "The only hitch in an otherwise perfect week was the awful noise coming from the hotel room next door to mine. Turns out it was just Debbie Wasserman Schultz practicing her speech for the DNC in Charlotte next week. Bless her heart."
But Huckabee's larger message appeared to be aimed at reassuring religious voters who may still be squeamish about Romney's social conservative credentials -- or his Mormon religion. Huckabee, a Baptist minister, remains popular among evangelical voters and often speaks out on social issues. He recently took up the cause of Chick-fil-A after the head of the company spoke out against same-sex marriage.
"Let me clear the air about whether guys like me would only support an evangelical," Huckabee said. "Of the four people on the two tickets, the only self-professed evangelical is Barack Obama, and he supports changing the definition of marriage, believes that human life is disposable and expendable at any time in the womb or even beyond the womb, and tells people of faith that they must bow their knees to the god of government and violate their faith and conscience in order to comply with what he calls health care."

"I care far less as to where Mitt Romney takes his family to church than I do about where he takes this country," he added.
Huckabee also brought up the debate over contraception coverage under the Affordable Care Act. Under the ACA, or Obamacare, most health insurance plans are required to cover birth control without a co-pay. The Obama administration created an exception for churches and other places of worship, but did not fully exempt religiously affiliated institutions. After an outcry from religious conservatives and many Catholic groups, the administration announced a compromise that requires the insurer -- rather than the employer -- to provide the coverage for women employed by the entities in question.
"The attack on my Catholic brothers and sisters is an attack on me," Huckabee said. "The Democrats have brought back the old dance the 'Limbo' to see how low they can go in attempting to limit our ability to practice our faith. This isn't a battle about contraceptives and Catholics, but of conscience and the Creator."
Left unmentioned in Huckabee's speech was Rep. Todd Akin (R-Mo.), the U.S. Senate candidate who has been widely condemned by members of his own party for commenting that women who are victims of "legitimate rape" cannot get pregnant. While most of the GOP establishment has called on Akin to drop his Senate bid, Huckabee and other religious conservatives have rallied around him.
"Perhaps Mr. Huckabee should pay more attention to the company he keeps, such as Todd Akin, instead of taking potshots at the Chairwoman for applause lines," DNC Press Secretary Melanie Roussell said in response to the speech. "While Huckabee continues to promote the extreme Akin plank, the Chair will defend women's rights to reproductive health free from dictation by men who don't know fundamental biology."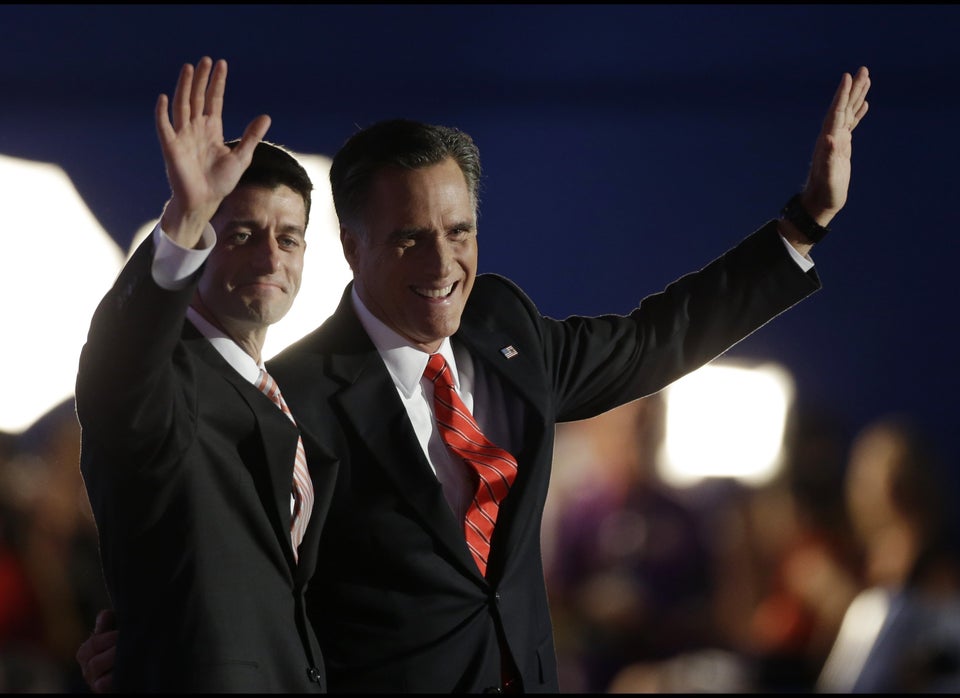 Republican National Convention 2012