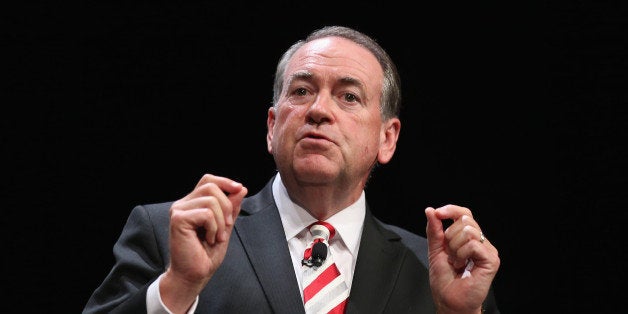 In an interview yesterday with Breitbart News, presidential candidate Mike Huckabee accused President Obama of marching Israelis to the "door of the oven" with his proposal for a nuclear deal with Iran.
That's a bold claim, but Huckabee is a bold man. And bold men are not afraid of using the Holocaust as a metaphor, because, let's be honest, the holocaust is a GREAT metaphor.
Here are four topics that the "God, Guns, Grits and Gravy" author thinks bear comparison to Nazi Germany. Strap on your seat belts.

1. Abortion
Huckabee was caught on a video taken by Right Wing Watch comparing abortion to the Holocaust "If you felt something incredibly powerful at Auschwitz and Birkenau over the 11 million killed worldwide and the 1.5 millions killed on those grounds, cannot we feel something extraordinary about 55 million murdered in our own country in the wombs of their mothers? Does that not speak to us?"
Whoa there, Mike, hold your horses!

2. Gay Marriage
Huckabee used the words of the Reverend Martin Luther King Jr. to equate legalization of gay marriage with the unjust laws of Nazi Germany. In 2014, Mike Huckabee claimed that the fight to prevent the legalization of gay marriage was akin to the fight against the unjust laws of Nazi Germany.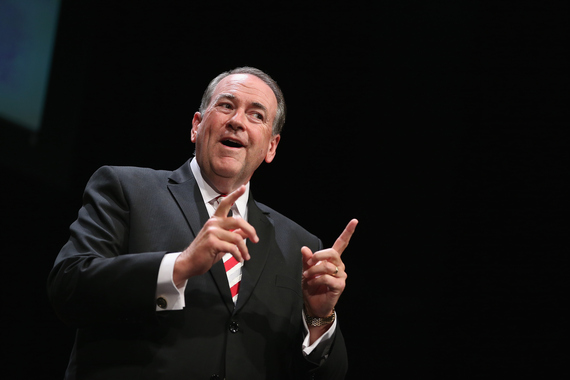 Here are Dr. King's words: "We can never forget that everything Hitler did in Germany was 'legal' and everything the Hungarian freedom fighters did in Hungary was 'illegal.' It was 'illegal' to aid and comfort a Jew in Hitler's Germany. But I am sure that if I had lived in Germany during that time, I would have aided and comforted my Jewish brothers even though it was illegal."
Huckabee said he wished that he "had penned those words," and suggested the same courage needed to combat Nazi law is necessary in combatting gay marriage in the United States.

3. Gun Control

Huckabee concurred with a caller to his radio show who erroneously claimed that Hitler established his fascist dictatorship by instating strict gun control laws in Germany. Huckabee also agreed that something similar could be happening in the U.S.
After the caller made the comparison, Huckabee responded, "When you bring that up there are people that get crazy on us. They'll start saying, 'oh there you go, comparing to the Nazis.' And I understand the reaction. But it's the truth. You cannot take people's rights away if they are resisting and have the means to resist."
Sometimes comparing stuff to Nazi Germany is just the truth. We get it, Mike. But also sometimes it's not. Like this time.

4. Euthanasia
In 2014, Huckabee took a stand against removing teenager Jahi McMath from life support, even though she had "technically died several weeks ago" according to doctors. Huckabee believes that people in the U.S. need to stop valuing lives differently because #alllivesmatter. Apparently the culture that we live in that allows doctors to take Jahi off life support is eerily reminiscent to Huckabee of another time...
"It's also that culture that allowed the Nazis to to hideously justify the savage slaughter of millions of Jews, disabled people, old people and those with mental illness," Huckabee said. "Let's hope and pray that the courts continue to do what every court should do, respect parents over government, family over hospitals and, above all, protect Jahi from them all.
To be fair, Mike Huckabee isn't the only American visionary (and presidential candidate) bold enough to bring Nazis into the American conversation this election season:

A Trump campaign image features Donald, the White House, and a band of Nazi soldiers
#MakeAmericaGreatAgain
Cover photo: Scott Olson / Getty
Popular in the Community