Remember the tragic news last year that Mike and Ike were heading for divorce? Fear not, candy fans -- The Huffington Post has learned from Mike and Ike themselves that things are on the mend.
Not only is the duo getting back together, its namesake candy brand is getting reformulated. That means new flavors, new packaging and more.
The digital campaign on their divorce has been ongoing for about a year now -- with Ike working on his art while Mike spent time on his music. The divorce schtick included everything from peeks at Ike's art, to actually involving a negotiator throughout the "divorce" proceedings.
"We've been having a lot of fun," Donald Houston, senior category manager for the candy's parent company, Just Born, said about the campaign.
Fans of the candy didn't seem to grow tired of hearing about the failing relationship, following updates on the Mike and Ike Tumblr and Facebook pages. "It's actually been pretty impressive how engaged people have been," Houston said.
As a result of the divorce campaign, the company has had its highest sales in 10 years -- sales of the original fruit flavor are up 9.3 percent from the previous fiscal year, Houston said.
Those following closely may have noticed that in the past few weeks there have been reported sightings of Mike & Ike together. Love is in the air, people!
In honor of Mike and Ike getting back together, Just Born is launching a new flavor called Strawberry Reunion, which will roll out in stores starting next week. Take a look: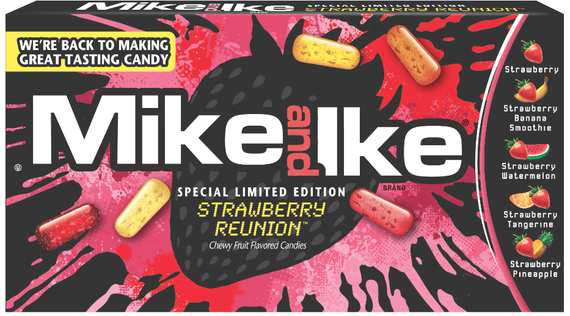 In addition to the new flavor, all of the Mike and Ike boxes underwent a redesign -- especially important considering the versions in stores for the past year had either "Mike" or "Ike" crossed out (no one said divorce was pretty!):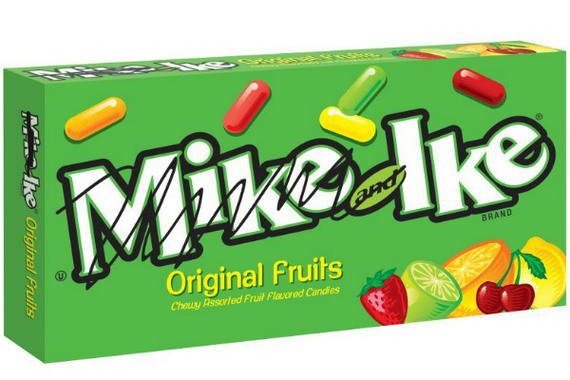 To really push the new incarnation of Mike and Ike, there will be billboard ads, radio spots, in-store displays, a relaunched website and more. But the biggest part of the launch is the Mike and Ike movie trailer that will air on national television starting in early June. It's...dramatic. Take a look:
A hearty congratulations to Mike and Ike -- we wish them many more years of happiness.
Photos courtesy of Mike and Ike
Popular in the Community