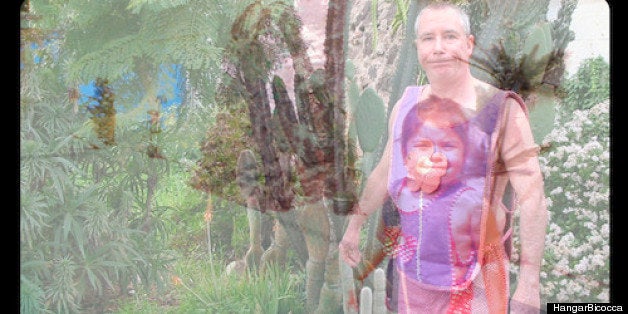 "I think we're done with linear thinking… We need poetry, really. This show is done with this approach," Mike Kelley's friend and former partner, Emi Fontana, tells me on a tour of the artist's posthumous exhibit, "Eternity is a Long Time," at the Pirelli Foundation's gigantic renovated 42,000 square-foot art space in Milan known as HangarBicocca.
The Los Angeles artist is perhaps best remembered for his illicit artwork involving stuffed animals, which were famously used on Sonic Youth's 1992 album, "Dirty." By 1999, however, Kelley was done playing with plush toys, moving on to reenactments of found photos and large-scale investigative works on the trauma and lingering weirdness of adolescence on our adult selves.
Ten pieces from the late artist are now on view in a groundbreaking exhibition curated by Fontana as well as by Andrea Lissoni from HangarBicocca. "The reason why I was so interested in Mike's work and him as a man was really he was combining… subculture and high culture with art history and poetry," Fontana says.
About 50 feet from the dimly lit entrance is "Extracurricular Activity Projective Reconstruction #1 (A Domestic Scene)" (2000), which is based on a found photo of a high school production of an unknown play. A mottled, grey, three-walled set contains a bed with rumpled white sheets, three gold frames (with replicas of the wall visible underneath), an open oven, and what appears to be an incongruous wooden pillar with a black statue balancing on top. Behind the room is a black-and-white video of a man writhing on the bed we just saw. An actor standing over him calmly states, "You say I have perverted you… but you have fouled our love nest." The pair argues about their relationship and about the state of the apartment with varying degrees of humor and hysterics.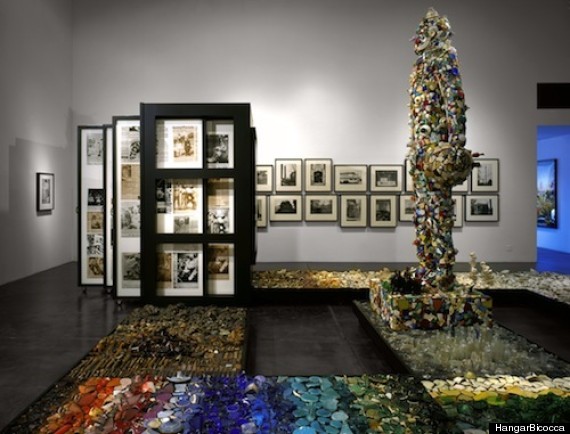 Mike Kelley, John Glenn Memorial Detroit River Reclamation Project (Including the Local Culture Pictorial Guide, 1968-1972, WayneWestland Eagle), Exhibition view, 2001.
We are in a space where sexuality is grotesque, repressed, wanton, and above all else, confusing. Kelley out-Lynches David Lynch in his appreciation of the absurd and damaging aspects of modern existence. "It's important to give the viewer a physical experience. You have to feel art in your body," Fontana says as we tour the exhibit.
From the very first piece, we see the borrowed works on display are given ample room to assert themselves in the cavernous space, although the lingering taint of horror vacui still exists within Kelley's pieces nonetheless. There's just too much inside to take in; all the space in the world won't erase the claustrophobia within.
Among the works are some surprises to even the most ardent fans of his work. Co-curator Andrea Lissoni muses in front of "Light (Time) – Space Modulator" (2003), "This piece is not like anything else in the exhibit." The mysterious rotating staircase complete with red and green lights looks like Vladimir Tatlin's unbuilt 1920 sketch, "Monument to the Third International," but is also a reference to Laszlo Moholy Nagy's 1930 piece, "Light-Space Modulator". A grey hyper-phase distortion pedal mounted on the wall is plugged into an amp, which plays the elegiac sound of the slowly rotating artwork taken from Kelley's old house in California.
The enormous iron staircase weighs over 800 pounds, so it's been almost impossible to display in the past decade, but at HangarBicocca, it has its own room, fitting in with the other pieces despite its sculptural intensity. Fontana calls it a "funky time machine," which seems appropriate. The scent of incense from five containers placed in the front of the piece lingers as we exit and turn toward the other works on view.
The staircase reminds us that this exhibition is meant to be viewed in a circular manner; in Kelley's world, things are not linear. Lissoni calls it a "psychedelic way of seeing the world."
After the artist's suicide last year, this exhibition stands as a tribute to a friend, lover, and complex personality. As we can see in "Eternity," Kelley was pulled in many directions. In "Bridge Visitor (Legend-Trip)" (2004), he's the naked vision dancing in flames at the end of an ironic satanic-themed video, while in "Profundeurs Vertes" (2006), he's painted himself, Renaissance-style, as the artist-as-watcher inside the painting. And yet, as the curators seem to conclude, he'll always be the "Banana Man" (1983), creating a complex role for various minor characters throughout history.
Kelley demands that we pay attention to the details, and he rewards us when we do. In his back-handed tribute to John Glenn, Jr., we see the astronaut has brown clumps packed on his exterior and a faucet for a penis. It's awkward seeing a cultural figure depicted this way, but it's also liberating. Which is to say, even the best of us are flawed, weighed down by our bodies and by the mark of time. It's up to us to decide how to deal with these imperfections. We can, like Kelley, tackle them head on.
As the actors stare into the black depths of the oven before them in "Extracurricular Activity," one argues, "It's the soothing limitless quiet expanse of outer space." The other exclaims, "It's a void…eating me alive!" He continues, "It's the siren that drew Silvia Plath to her death!" And yet, we're wise to follow the other actor's advice when he says, "Look back into the void. It is your freedom… That hole is your escape."
Mike Kelley, "Eternity is a Long Time." is on view until September 8, 2013 at HangarBicocca in Milan. A series titled "Mike Kelly E Il Cinema" celebrating the artist's love of cult films runs until September 5 at the space, and international artists are planned at HangarBicocca until 2016, so get ready for everyone from Joan Jonas to Cildo Meireles to get their due in the months to come.
Calling all HuffPost superfans!
Sign up for membership to become a founding member and help shape HuffPost's next chapter
BEFORE YOU GO
PHOTO GALLERY
Mike Kelley: Eternity Is A Long Time