At long last, Mike Kelley's gargantuan retrospective has come to Los Angeles, and in case you haven't yet seen the overwhelming display of fuzzy friends, wonky low-budget films, aggressive drawings and dizzying installations, we'll warn you: it's quite an overwhelming experience. Around 20 new pieces have been added to the exhibition since its stay at MoMA PS1 in New York. And, like so many who journey from the East Coast to the West, the works have room to stretch.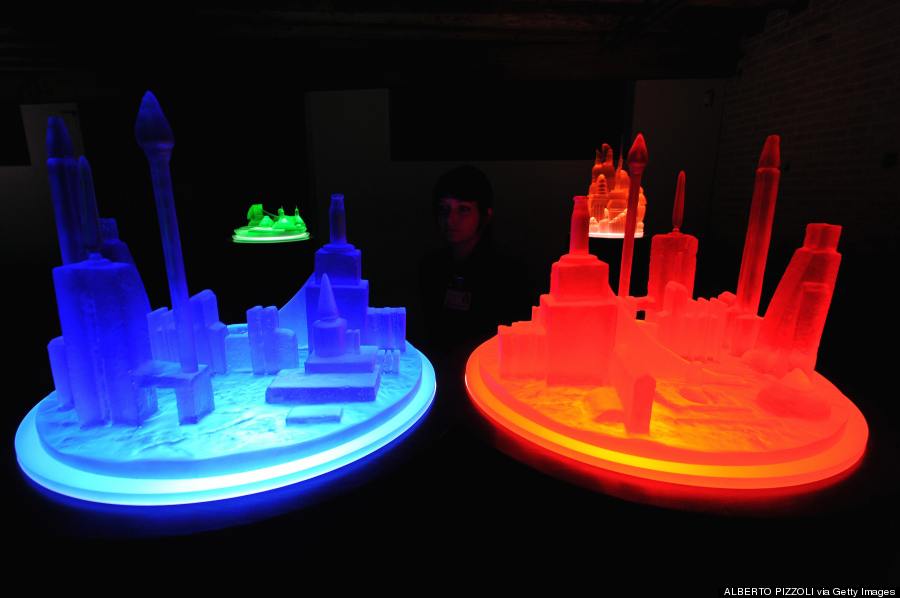 Sprawled across the massive space of MOCA's Geffen Contemporary in Downtown LA, Kelley's works forge a topsy-turvy landscape that resembles an alternate Los Angeles with all your fears and fantasies made flesh. Divided into self-contained pockets, not all too unlike the disparate components of the city, Kelley's exhibition features a nearly endless variety of media, ideas, styles and affects. Viewers go from a bubbling vault of mythical Superman utopias into a rainbow tunnel that leads to the artwork of a local murderer. Reactions fizzle with a visceral heat, the art as tangible inside as your morning's breakfast;; this is not a show you stroll calmly through.
Kelley moved to California from his hometown of Detroit, Michigan in 1976, to study art at the California Institute of the Arts (CalArts). He lived and worked in LA for over 35 years, his work mirroring in many ways the fractured persona of the city -- a suburban replica of a metropolis, dressed up yet shattered, utterly unapologetic. His artwork branched in infinite directions of style and technique, while often returning to themes of sexuality, shame, childhood, memory, and the monstrous inside.
Throughout his career, Kelley revealed the always lurking proximity of blue collar tastes and the avant-garde, innocence and perversion, the banal and the absurd, the bedroom and the nightmare. Behind every pair of tattered stuffed animals in flagrante delicto, there's an idea hungry for a new mind to infiltrate. When he committed suicide two years ago at 57 years old, Kelley had become one of Los Angeles' most influential and experimental artists. His legacy is everywhere, from the current crop of art school grads to the shiny displays at the 99 Cent Store.
If you're in the LA area, Kelley's retrospective is a must. To relieve you of some of the delicious burden ahead, we've provided a timeline of our favorite Kelley works. Enjoy.
REAL LIFE. REAL NEWS. REAL VOICES.
Help us tell more of the stories that matter from voices that too often remain unheard.