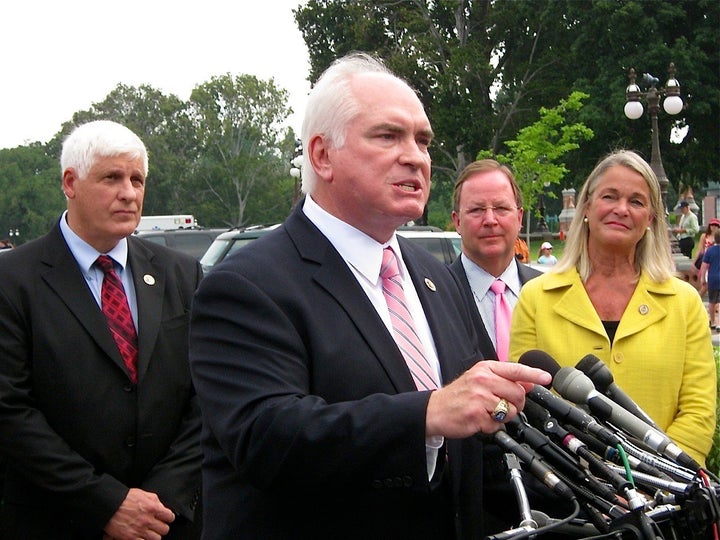 Criticizing President Barack Obama's health care reform law on Wednesday, Rep. Mike Kelly (R-Pa.) likened the requirement that private insurance plans provide contraception coverage to two of the most devastating attacks on American soil.
"I know in your mind, you can think of the times America was attacked," he said at a press conference on Capitol Hill. "One is Dec. 7, that's Pearl Harbor Day. The other is Sept. 11, and that's the day the terrorists attacked. I want you to remember Aug. 1, 2012, the attack on our religious freedom. That is a day that will live in infamy, along with those other dates."
Wednesday marked the first day private insurers must include birth control coverage in their plans without charging a co-pay, per requirements in the Affordable Care Act. The change will affect most women on private health plans, with some exceptions. More than a dozen Republican members of the House of Representatives, mostly freshmen, held a press conference to blast the law for what they said were violations of religious freedom.
"As this mandate goes into effect, Americans are going to be forced to act against the principles of their faith," said Rep. Ben Quayle (R-Ariz.). "This coercion by taxation that this president seems to like must stop and it must come to end now."
The conservative lawmakers' objections focus on the fact that employees and students with religiously affiliated groups will be able to have access to contraception coverage through their health care plans. A compromise offered by the Obama administration requires insurance companies to offer the coverage directly, so that the employers are removed from the transaction.
Still, the members threw one vitriolic jab after another at the mandate, calling it an attack on freedom and an assault on first amendment rights. Rep. Tim Huelskamp (R-Kansas), a Roman Catholic, characterized the law as "thinly veiled religious bigotry."
"Today is the day religious freedom died in America," Kelly added. His colleague Rep. Billy Long (R-Mo.) expressed a similar sentiment, saying, "We're not the land of the free anymore, and we need to get that straight."
Rep. Ann Marie Buerkle (R-N.Y.) called the mandate "the largest assault we've seen on first amendment rights in the history of our country," and her colleague Rep. Jeff Fortenberry (R-Neb.) called it "unprecedented government coercion in health care."
"This is not an issue of birth control, it's an issue of government control," Rep. Steve Pearce (R-N.M.) said.
"It's outrageous that this administration believes it's within their power to force people to violate their right of religion if it interferes with this administration's agenda," Rep. Alan Nunnelee (R-Miss.) said. "It should disturb people of all faiths, or for that matter people of no faith at all, that President Obama has such a low opinion of the first amendment that he would trample on these rights."
In addition to the contraception mandate, health insurance plans must now cover additional screenings and services for women without passing on any of the cost to the patient.
"These include services that are essential to helping women stay healthy -- such as domestic violence screening, FDA-approved contraception, breastfeeding support and supplies, gestational diabetes screening, HPV testing, sexually transmitted infection counseling, and HIV screening," Health and Human Services Secretary Kathleen Sebelius and House Minority Leader Nancy Pelosi (D-Calif.) wrote in a USA Today op-ed published Tuesday.
"That's on top of other potentially life-saving services such as cholesterol screenings and flu shots that many private plans and Medicare have already begun covering with no co-pay thanks to the law."
UPDATE: 3:00 p.m. -- Democrats hammered Kelly for his remarks.
"Equating women's health care and contraception with two of the darkest days in American history is not just wrong -- it's shameful," said Rep. Carolyn Maloney, (D-N.Y.), who has spent the last decade dealing with the aftermath of 9/11. "Hopefully Rep. Kelly will realize his rhetoric doesn't match the situation. Safe, accessible contraception is a fundamental part of virtually every woman's health care at some point in their lives."
Rep. Jerry Nadler (D-N.Y.), whose district incudes Ground Zero, said Kelly should apologize.
"For the thousands of Americans who lost their lives on these two horrible days, to the thousands more who put on a uniform to protect this country and ensure that the lives of those lost are not forgotten, to the thousands more who mourned the loss of a loved one or bore witness to those two tragic days in American history, Mike Kelly's comments are beyond outrageous," Nadler said in a statement. "To drag the memories of those lost and those still grieving into the culture wars is unforgivable. And to equate those terrible attacks with the safe and legal availability of contraception for women -- ostensibly to score political points -- is stunning. The American people deserve an apology."
And Sen. Daniel Inouye (D-Hawaii) responded in a similar manner.
"I witnessed the attack on Pearl Harbor and had the privilege of serving in the United States Army during World War II and I find the comments made by the Congressman from Pennsylvania to be misguided and insulting," he said. "It is complete nonsense to suggest that a matter discussed, debated, and approved by the Congress and the President is akin to a surprise attack that killed nearly 2,500 people and launched our nation into the second World War or a terrorist attack that left nearly 3,000 dead and led to fighting and dying in Afghanistan and Iraq. Having fought for this nation in Europe, I find that I have a special kinship with those who served in Afghanistan and Iraq and I routinely visit with the most severely wounded veterans of those conflicts. Just yesterday I met with a brave young man who lost all four of his limbs in Afghanistan. I hope the Congressman from Pennsylvania has the courage to share his comparison with them."
Amanda Terkel and Mike McAuliff contributed reporting.
Before You Go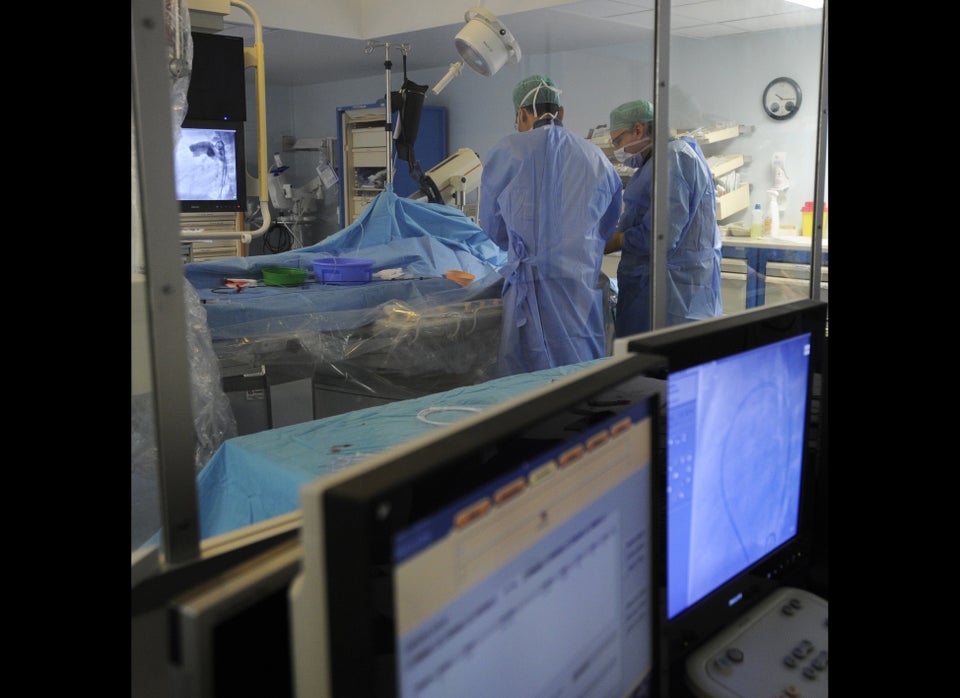 Lies And Distortions Of The Health Care Debate
Popular in the Community