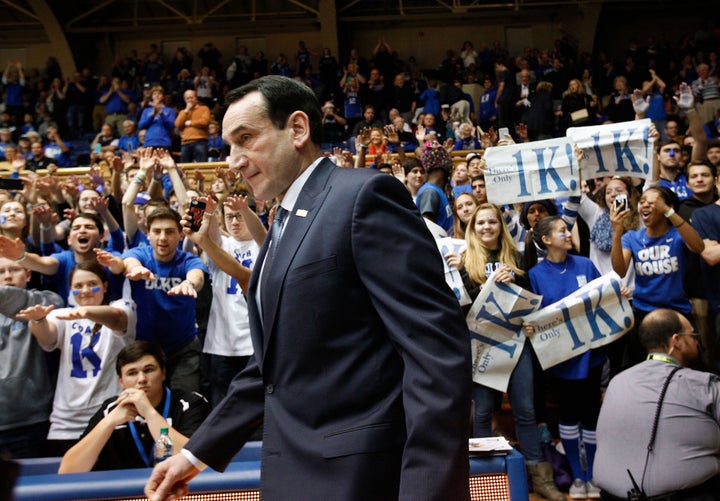 With over 1,000 wins to his name, Duke basketball coach Mike Krzyzewski is the winningest coach in NCAA Division I history. He has won five national championships ― most recently in 2015 ― and is both an inductee of the Naismith Memorial and College Basketball Halls of Fame. And, at 69 years old, the West Point graduate is hardly slowing down either. Following a recent knee replacement surgery, this season Coach K has arguably his most talented team yet, with legitimate hopes of capturing a sixth title.
Krzyzewski caught up with The Huffington Post to discuss guiding Team USA to three consecutive gold medals, the hardest part about keeping his program small and why recruiting today is more demanding than ever before.
This interview has been edited and condensed for clarity.
You've joined forces with Hit Play, which promotes joint replacement surgery as a way to avoid living in constant pain. Just how bad and how much pain were you in before your hip replacement surgery? I'm not sure most fans understand you were really struggling.
I knew that my left knee was bone-on-bone for a few years, but it was not symptomatic. My legs were strong, and for whatever reason I wasn't having the pain. Then, during the season, my knee was literally starting to collapse a little bit, and I had to get a brace for it and wore the brace for seven, eight weeks. That first hip replacement 17 years ago taught me you don't have to live with pain, you don't have to live with a lack of mobility, you can get back to being normal, you just need to get this thing done.
Have your vulnerabilities changed how you view players who get injured?
Just because you play hard or get hurt as a player, that doesn't mean you're going to need to get joint replacement. A lot of this is just genetics.
I've always felt like you have made a cognizant effort to evolve as a coach. Duke doesn't strictly employ man-to-man defense anymore, for example. And your offense caters more to the personnel you've recruited.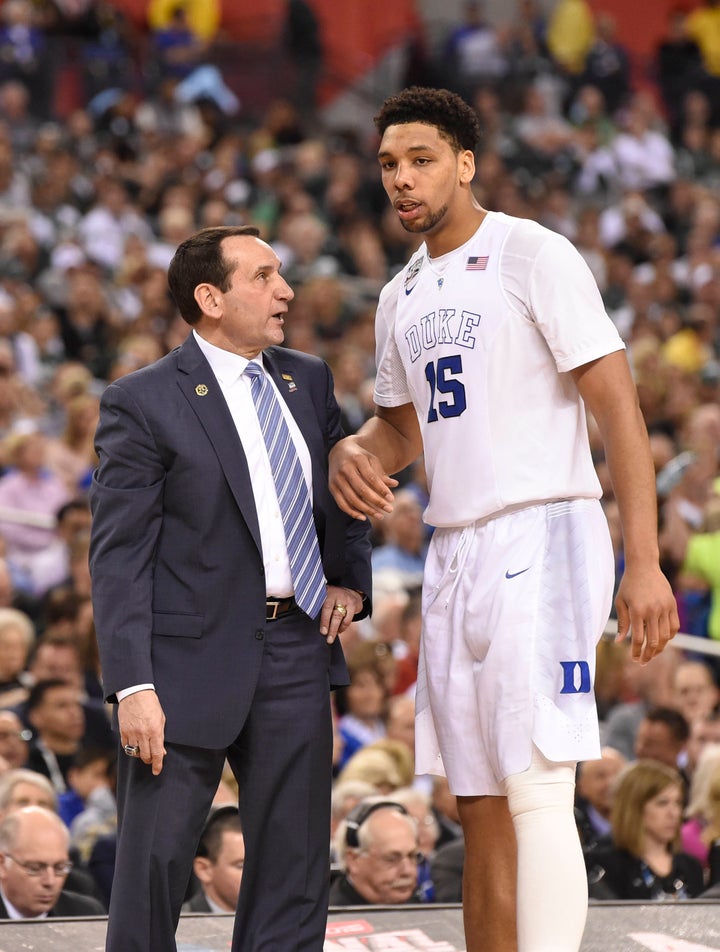 I think it's a key for sustained success and sustained excellence ― to be a lifelong learner and also to be able to adapt to the changing cultures that the kids and the people that you have the honor to coach come from. I've been coaching for 42 years as a head coach, and you know, culture changes. What you teach and value ― trust, loyalty, teamwork, cooperation, hard work ― they stay the same. But the way you develop that within your group is different, same with methods of attack on offense and defense.
The amount of time you have with a team ― how much can you get in within that period, how many older guys do you have to teach your system? With guys leaving early you don't have that four-year-player all the time ― especially your best player. And then I've learned over the last 10 years coaching the U.S. Team that you adapt everyday in dealing with men and different egos and how to get them all under one ego. Just like in physical training: What do you do now compared to what you used to do, and what did you learn?
How much of a challenge is it for you and Coach Capel to go after guys that could be one-and-done guys or two-year guys, when in the past you generally had more upperclassmen?
Well, Jordan, to be quite frank with you, they're the same guys except that they're leaving now. Grant Hill, Christian Laettner, Bobby Hurley ― they may have been one-and-done if they were here 25 years later. And so, we really have gone after the same type of guys, guys who are really good players, really good students, good character. That hasn't changed.
It's just that success as far as going into the NBA comes sooner for these guys now, so what we've had to adapt to is more recruiting year by year. I find that I'm recruiting more and more intensely than at any other time in my career, because of the frequency and the amount of work that goes into recruiting a youngster at that level.
How much of your experience with Team USA has helped sustain the Duke program at an even higher level?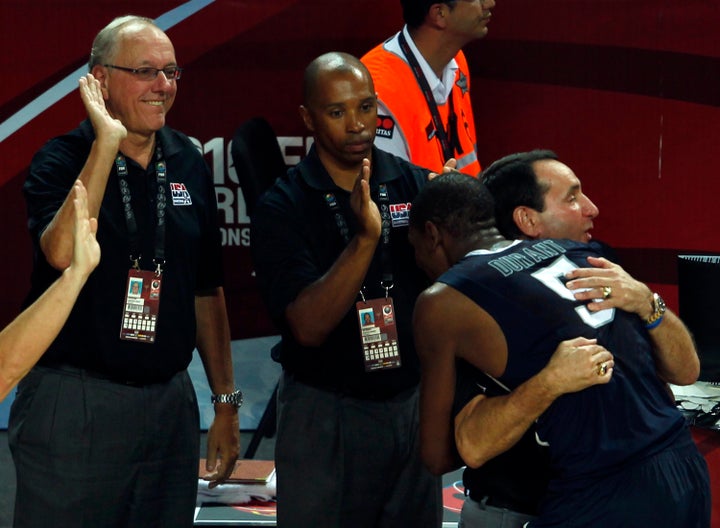 I would say that success helps recruiting. In other words, if we weren't successful in our program at Duke, we wouldn't attract as many kids. If I coached the USA team, and LeBron James and Durant and Kobe and all those other guys said, "I hated playing for that guy," that wouldn't help us in recruiting. If we lost to Spain in Beijing when the score was a 2-point game, that wouldn't help us in recruiting. But the fact is that we've done well. If you're worthy of being asked to do something and have the courage to accept it, and the work ethic to make it good ― all three of those steps took place in order to have what some people think is a gift from somewhere.
With all of that success collegiately and internationally, how do you maintain the intimacy in your program when everything is so big? How do you keep that family atmosphere with such tremendous exposure, because I picked up on that during my first game in Cameron.
Well it's a good question. First of all, it comes from people. The infrastructure of our program: It's not my program, it's our program. Then, the kids that we recruit are really good kids. When they're put in this type of environment in a school as great as Duke, it helps us tremendously. They recognize they want to be a part of something bigger than them. And then what we do is we don't think about what we've done, but we try to focus on what we're doing. I don't want a guy who might be a one-and-done thinking about going pro, just like I don't want me thinking of retirement or thinking about what we did in Rio. Or what we did in 2015. Let's all think about the same thing, about how this group can have an amazing experience. That can be a challenge, but it's a challenge worth meeting and then beating.
How prominent a role do world events play within the framework of your team, politics for example? Do you encourage players and coaches to have these types of conversations?
Yeah, we talk about those things. Our guys are able to express those views, we don't have any type of restrictions on social media, except for them to recognize that they're not just them, they're us. When you do say something or whatever it is, you're part of our program and to understand that responsibility. We talk about it, whether it be HB2 or the flag situation that occurred earlier, we talk about all those things, because that's the environment that they're living, and we are very happy to hear their views. We don't have an agenda or have to make a statement about everything.
Duke always schedules as tough as anyone else in the country. You have discussed preparing for the tournament by using the schedule to your advantage.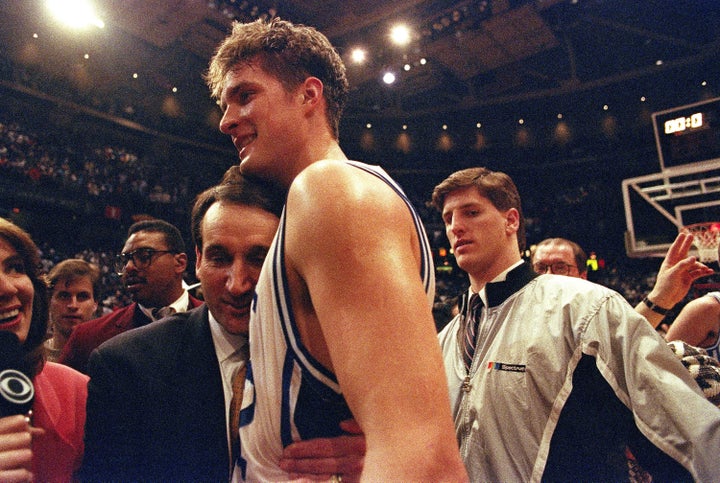 What we try to do in our non-conference scheduling is to schedule one of the top 10 schedules in the country, which we always have. But also put ourselves in situations that'll be similar to the situations that we will have in March. Big games, big arenas, different times. We've played two 9:30 games, then we have to travel back to campus and get there at 4 in the morning.
In the NCAA Tournament, you're going to be playing in front of neutral, huge crowds. You're going to have games that start at noon, 10:15 at night, whatever, so we try to get our team ready for March, not so much get it ready for January. Our conference schedule will toughen us up and get us better, and so will the non-conference, but the non-conference gives us the opportunity to look at environments that we'll see in March and hopefully ― you won't see it in April because usually you don't play in a dome ― but if we get that opportunity we'll adjust to that at the moment.
I've heard you talk a lot about Steph Curry and the shockingly impressive workouts he does behind closed doors.
Well it's not just that, but it's so many of those NBA players. They have so many of their own routines that quite frankly they should be the ones to talk to you about them, not me. But it's not what they all show in public, because it's called personalization. What you need to personally do to get you to be your best.
When you're with the U.S. team, you get to see the best practices of all the best professionals, and they can pick up from one another. They all get better. I'm not saying that I make them better, it's just that in that specific environment they all get better because they're able to share knowledge.
How much more of an emphasis have you put on nutrition and exercise?
Well I try to keep in the best shape that I can year-round and especially during the season. Stress relief, clear head, making sure that you are physically ready, because if you're not physically ready it affects you mentally. That's why I got these hips. You want to be at your best. You know when you're suffering from that that you're not, and it makes me angry, like I'm losing to this. So I got it done, and I feel like I've won. I wouldn't be coaching if I didn't get all these things done. No way. It would be impossible.
CORRECTION: A previous edition of this article incorrectly stated that Krzyzewski has won two consecutive Olympic gold medals as head coach of Team USA. It has been changed to accurately state he has won three straight golds.
CORRECTION: Also, the article previously stated that Coach K is a two-time inductee into the Naismith Hall of Fame. It's been changed to accurately state he has been inducted into both the Naismith and College Basketball Halls of Fame.
CORRECTION: The piece has also been changed to accurately reflect that Coach K endured a recent knee replacement, not a second hip replacement.
Popular in the Community