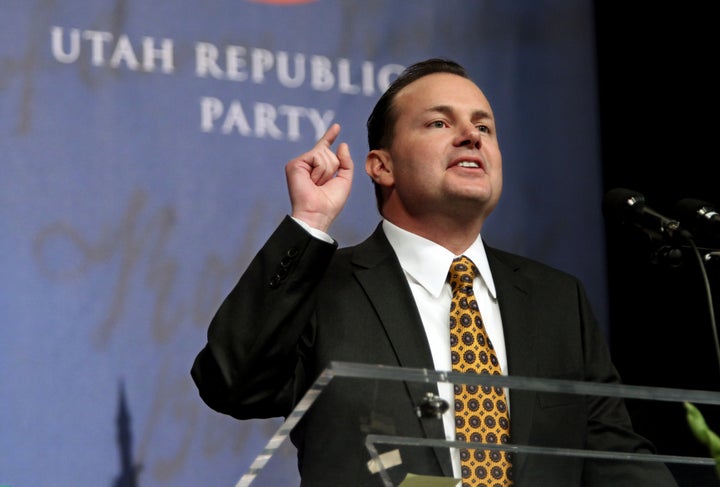 Mike Lee, Utah's Tea Party-backed Republican Senate candidate, floated the solution of a total government shutdown Thursday to deal with increasing budgetary concerns and growing debt.
NPR spoke with Lee, who said that a governmental standstill may soon be "absolutely necessary":
"Our current debt is a little shy of $14 trillion. And I don't want it to increase 1 cent above the current debt limit and I will vote against that," he says.

Even if it leads to government default and shutdown?

"It's an inconvenience, it would be frustrating to many, many people and it's not a great thing, and yet at the same time, it's not something that we can rule out," he says. "It may be absolutely necessary."
On Wednesday, however, Lee even went above and beyond these statements, saying that he intended to force Obama to slash federal spending by 40 percent or else face a government shutdown.
Lee's willingness to consider such drastic measures is particularly relevant considering the extreme likelihood that he will become the next senator in the heavily-red Utah, and will apparently not hesitate to filibuster any budget that adds to the deficit or debt.
Though Lee has repeatedly raised eyebrows before with some of his less conventional positions, the concept of a government shutdown has recently become a more common feature in Republican circles.
Alaska's Joe Miller recently told the National Review that the idea had even been recognized as a possibility by Senate Minority Leader Mitch McConnell.
"There was a comment made at breakfast this morning about shutting down the government, and he reacted in a positive way," Miller told the Review's Robert Costa. "I'm not going to quote him, but I think that he recognizes that that's on the table."
McConnell's camp has since denied these claims.
Other Republicans have similarly proposed a shutdown in the past months, while some, such as former House Majority Leader and current FreedomWorks chairman Dick Armey, Sen. Johnny Isakson (R-Ga.), and House Minority Whip Eric Cantor have addressed such suggestions with skepticism.
Calling all HuffPost superfans!
Sign up for membership to become a founding member and help shape HuffPost's next chapter