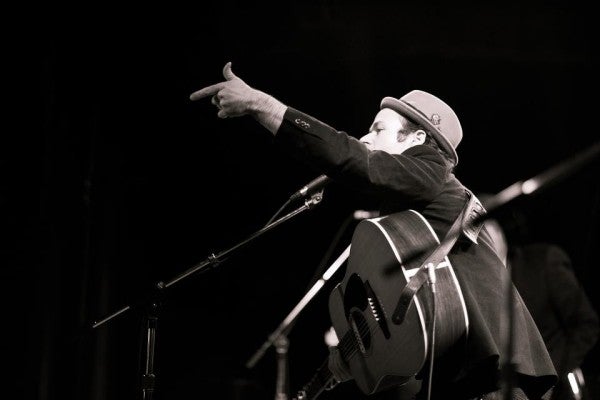 Americana folk group Mike Mangione & The Kin started as a project with just Mangione and his brother Thomas, but has since transitioned into a full band with the assistance of Chauntee and Monique Ross (violin and cello), Josh Collazo (drums), and Seth Ford-Young (bass). Next month the band will be releasing their new album, But I've Seen The Stars, which showcases their unique folk-rock driven sound supported by an orchestrated string section.
From the album comes the band's newest single, "Riding Down" which was recorded within 30 minutes at United Recording in Los Angeles. What began as just a guitar riff would become the soulful country-rooted track that you can hear below!
Mangione shared with us the meaning behind the track. "The song 'Riding Down' is based out of the classic question of who am I, what am I and where am I going. Roots music has a long tradition in dealing with either running toward or away from light/darkness, this song swims in the same waters," he explains. "In this case the protagonist is fighting to break out and run towards the good and he knows that when he finally get free the hounds will be howling."
"Riding Down" is off Mike Mangione & The Kin's brand new album, But I've Seen The Stars, to be released October 20th. Prior to the release, the group will be performing a handful of shows in Pennsylvania, California, and Wisconsin, dates listed below! For more information on any of the shows, head on over to www.mikemangione.com.
Sep 16th @ The Abbey Fest - Paoli, Pennsylvania
Sep 28th @ Hotel Cafe - Los Angeles, CA
Oct 4th @ Shitty Barn Concert Series - Spring Green, WI
Nov 17th @ Anodyne Coffee - milwaukee, Wi
Popular in the Community