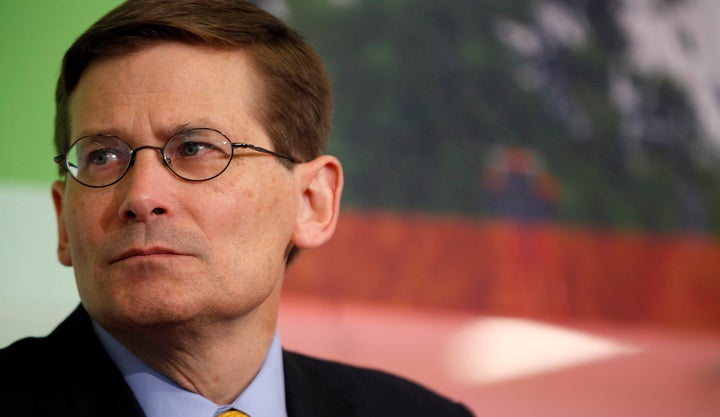 WASHINGTON ― The former acting director of the CIA said Sunday that Russia's interference in the 2016 elections constituted a significant attack on the United States, calling it "the political equivalent of 9/11."
"It is an attack on our very democracy. It's an attack on who we are as a people," Mike Morell told The Cipher Brief. "A foreign government messing around in our elections is, I think, an existential threat to our way of life. To me, and this is to me not an overstatement, this is the political equivalent of 9/11. It is huge and the fact that it hasn't gotten more attention from the Obama Administration, Congress, and the mainstream media, is just shocking to me."
The CIA concluded in a secret assessment that Russia interfered in the U.S. election not merely to mess around with the democratic system, but specifically to help Donald Trump win the presidency, according to a recent report in The Washington Post.
"It is the assessment of the intelligence community that Russia's goal here was to favor one candidate over the other, to help Trump get elected," said a senior U.S. official familiar with the findings. "That's the consensus view."
During the election, emails from the Democratic National Committee and the private account of John Podesta, Hillary Clinton's campaign chairman, were hacked and released on WikiLeaks. The DNC emails, in particular, caused turmoil within the party. Exchanges in those emails led supporters of Sen. Bernie Sanders (I-Vt.) to accuse party officials of tipping the scales for Clinton during the Democratic primary.
On Monday, Senate Majority Leader Mitch McConnell (R-Ky.) said he supports an investigation into the hacking, adding that it "defies belief that somehow Republicans in the Senate are reluctant to either review Russian tactics or ignore them."
McConnell said that he has the "highest confidence in the intelligence community," saying the CIA is filled with "selfless patriots, many of whom anonymously risk their lives for the American people."
McConnell's comments stand in stark contrast to those of Trump, who told "Fox News Sunday" that reports of Russian meddling in the elections were "ridiculous" and an "excuse" to undermine his victory.
"No, I don't believe that at all," he said.
"Nobody really knows, and hacking is very interesting," Trump added. "Once they hack if you don't catch them in the act you're not going to catch them. They have no idea if it's Russia or China or somebody. It could be somebody sitting in a bed someplace. I mean, they have no idea."
Trump has also rejected daily intelligence briefings, preferring to receive them just once a week. He said he doesn't need them all the time because he's "like, a smart person."
Jason Kander, Missouri's Democratic secretary of state and a former Army captain in Afghanistan, called Trump's comments incredibly insulting.
A growing number of senators in both parties are calling for congressional hearings into Russian election interference. Sens. Lindsey Graham (R-S.C.), John McCain (R-Ariz.), Jack Reed (D-R.I.) and Chuck Schumer (D-N.Y.) released a joint statement on Sunday urging people not to make it "a partisan issue."
Sen. James Lankford (R-Okla.) agreed with their assessment in a tweet Sunday.
Sen. Rand Paul (R-Ky.) said he wants an investigation into the matter, and Sen. Susan Collins (R-Maine) said she thought a bipartisan congressional investigation "could be useful towards achieving an objective accounting of any alleged meddling by foreign adversaries."
Morell, who served as acting CIA director during President Barack Obama's administration, said a bipartisan commission would be beneficial because it would "look into exactly what the Russians did and what we can do here at home to make sure that no foreign government can ever do this again to us."
"The commission shouldn't look into what is an unknowable thing ― which is: did they affect the outcome or not ― we'll never know that. We'll never know what the Russians did, whether it affected a single vote or not," he said. "But what we can do is figure out exactly what they did and make changes here at home as to how information is handled, how we protect information, and make sure they never do this again."
This piece was updated with fuller comments from Collins.
Want more updates from Amanda Terkel? Sign up for her newsletter, Piping Hot Truth, here.
HuffPost readers: Should Congress investigate? Let your preference be known by signing an open letter calling for an investigation, or signing an alternate one telling Congress to move on. You can add anything you like using the form below. To see how each one is doing, you can check the pro letter here and the con letter here.
Before You Go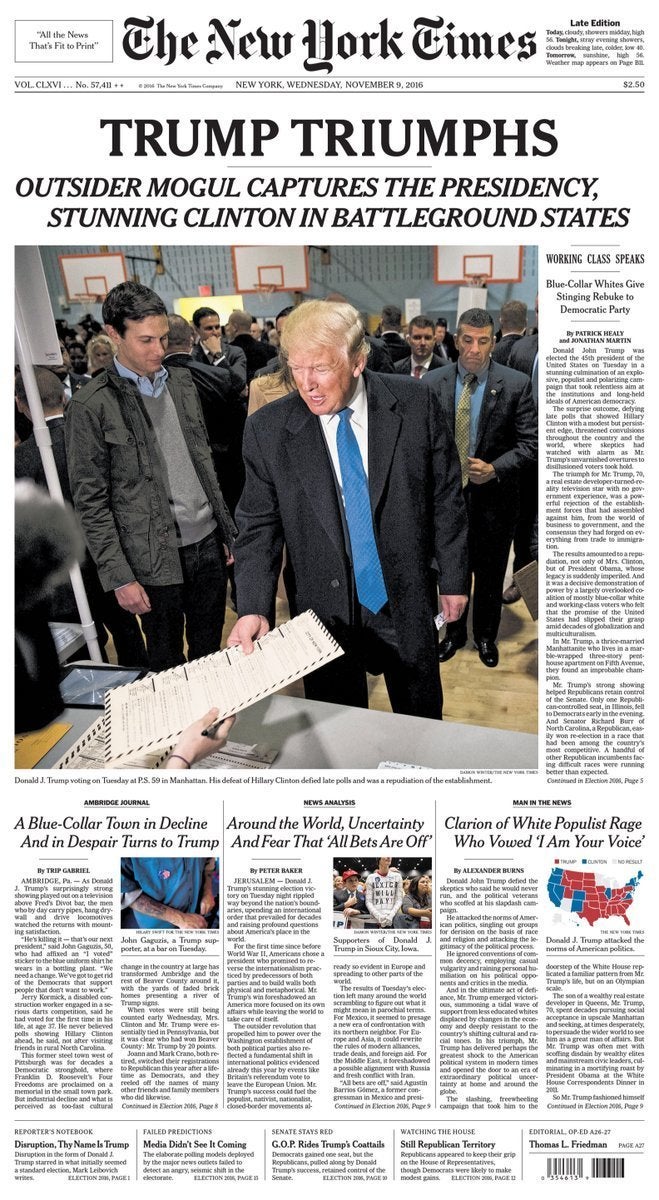 Newspapers React To President Trump
Popular in the Community