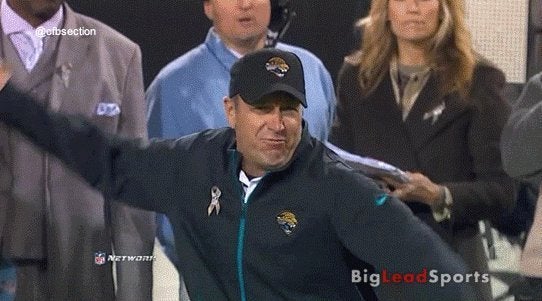 Mike Mularkey and the Jacksonville Jaguars didn't throw in the towel (although it would be hard to tell if they did) after falling behind the Indianapolis Colts in the first half. But the coach of the woeful Jags did throw a few other things.
As the coach of the cellar-dwelling Jags, Mularkey hasn't had much to happy about this season but he was particularly perturbed in the second quarter on Thursday night when Andrew Luck was given credit for a rushing touchdown on a play when it was unclear that he reached end zone. The Colts' rookie quarterback rushed for two touchdowns of five and one yard, respectively, in the first half. On the second touchdown, Luck ran a quarterback sneak and barely crossed the plane behind his offensive line. It took some time for the referees to determine whether it was a touchdown or not. When it became official, the headset and playbook went flying.
The tantrum was quickly immortalized in GIF form.
(H/T to Big Lead and @cfbsection for GIFs)
With a paucity of good news to report, the team's official Twitter account even mentioned the toss.
Popular in the Community