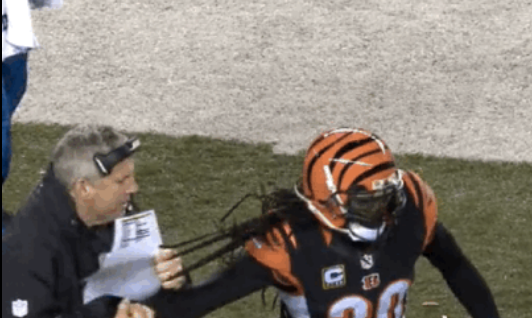 Pittsburgh Steelers assistant coach Mike Munchak has absolutely no chill. 
Towards the end of the first quarter of the Steelers' Wild Card matchup against the Cincinnati Bengals on Saturday night, Munchak yanked a handful of Bengals safety Reggie Nelson's dreadlocks. 
Nelson barrelled into the Steelers' sidelines after pushing running back Jordan Todman out-of-bounds. Munchak may have felt like Nelson unnecessarily shoved his running back into the sideline -- Todman was nearly out-out-bounds when Nelson hit him, and the extra push sent Todman crashing into the bench.
Todman should have been the star of the play for his darting run, but one of his coaches overreacted to a bit of chippiness on Nelson's part. Notice how Todman doesn't care about the "late hit" at all. He pops up and gets on with the game. 
After the play, CBS commentator Phil Simms quipped, "[Pulling a player's hair] is not a penalty… for the players." 
Exactly. As a Steelers assistant coach, Munchak had no reason for putting his hands on a Bengals player in such a purposefully harmful, disrespectful way. And, as a Steelers assistant coach, he should have reacted with poise, especially because each team was warned in the pre-game warmups to avoid "nonsense," per Bleacher Report's Mike Freeman. Before a December matchup between the two teams, a "scrap" occurred at midfield on the eve of the kickoff. 
But nothing in December compares to this. Munchak straight-up grabbed and pulled Nelson towards him -- Steelers defensive end Cameron Heyward had to get between them to avoid further incident. 
The referees quickly gathered to discuss discipline for either team, and ended up seeing what the cameras did: Munchak hot-headedly screwed with Nelson's hair. A flag was tossed, and the Steelers were penalized 15 yards for unsportsmanlike conduct.
PHOTO GALLERY
23 Funniest Moments From 2015 NFL Season
Calling all HuffPost superfans!
Sign up for membership to become a founding member and help shape HuffPost's next chapter