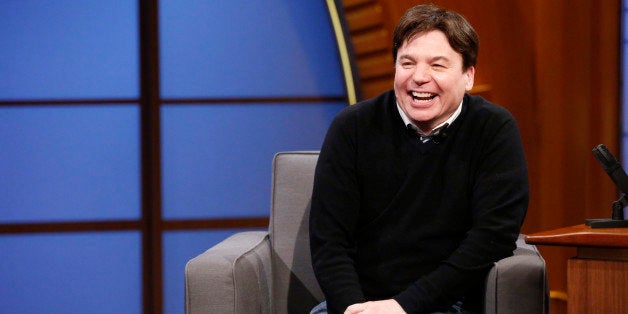 When you think of "Wayne's World," you think almost singularly of the famous "Bohemian Rhapsody" scene. You might also think of that scene while pondering great music moments in movies, standout scenes from '90s comedy, bad hair in movies and the entirety of Mike Myers' catalog.
As it turns out, the sequence almost didn't happen -- and if it hadn't, "Wayne's World" would have come crumbling down.
During a recent interview on "WTF with Marc Maron," Myers revealed the battle he had to fight for the Queen hit to be used in the film, one example of why he doesn't mind being labeled difficult to work with.
An example of something I fought very, very hard for, and it was my first movie: It was 'Bohemian Rhapsody' in 'Wayne's World.' They wanted Guns N' Roses. Guns N' Roses were very, very popular. They were a fantastic band. ...

Queen, at that point, not by me and not by hard-core fans, but the public had sort of forgotten about them. Freddie [Mercury] had gotten sick, the last time we had seen them was on Live Aid and then there were a few albums after where they were sort of straying away from their arena-rock roots. But I always loved 'Bohemian Rhapsody.' I thought it was a masterpiece. So I fought really, really hard for it. And at one point I said, 'Well, I'm out. I don't want to make this movie if it's not 'Bohemian Rhapsody.'
Myers obviously got his way, but Mercury presumably never got to see Wayne and Garth belt out the band's song, as he died a few months before the movie opened. But the 1975 anthem gave Queen a second wind, shooting up to No. 2 on the Hot 100 and pushing the soundtrack -- which "Bohemian Rhapsody" opened -- to No. 1. Now you can go back to pondering great music moments in movies, '90s comedy, bad hair and Mike Myers' catalog.
Popular in the Community