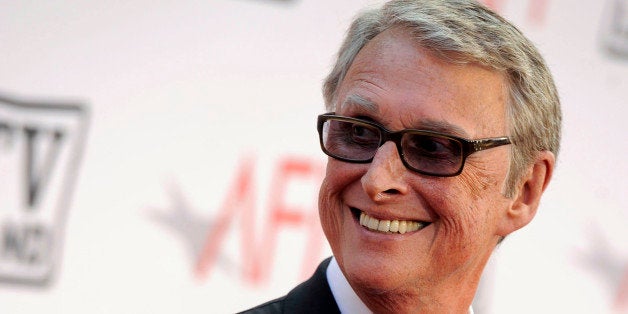 Plastics. It changed our lives forever. And it wasn't about Styrofoam cups. It was about Mike Nichols, comic genius, director of The Graduate. Yup. The film that altered all of us coming-of-age-ers. It catapulted young Dustin Hoffman's career, transformed Simon & Garfunkel's, and surely changed mine.
A studious East Coast high school teenager in 1967, I was transfixed by Nichols' flawless touch: on screen and in life. I was stirred by the young, confused college graduate Ben Braddock -- the icon of inertia, pacing against the Sounds of Silence. I was suddenly immersed in Nichols' sun-drenched scenes of a dazed Benjamin, floating aimlessly in his parents' Southern California swimming pool, drifting between flickering squares of sun glare, answering The Adults' endless questions about his future -- in a monotone.
Who could ever erase from our minds those edgy film segues and montages: Ben diving into the pool, leaping off of his raft (CUT), right into the arms of Mrs. Robinson, in the hotel bed. These Nichols-ian cinematic images are ingrained in our brains for eternity.
And how could we ever forget the nervous whimper of "Track Star Benjamin," the kid holding a toothbrush at the swanky Hotel Taft reception desk, waiting to be seduced by Anne Bancroft? Or "Relentless Benjamin," pursuing the girl of his dreams, darting down the highway in his red Alfa Romeo, appearing on her wedding day, rattling the church doors, begging to change destiny, screaming, "ELAINE"?
It was all because of Mike Nichols: comic, writer, director (Barefoot in the Park, Death of a Salesman, Silkwood, Virginia Woolf, Angels in America, and Annie). Mike Nichols: one of the 12 select few to garner the quartet of awards -- egads -- the OGET (Oscar Grammy Emmy & Tony).
I always felt a deep pang of connection to Nichols. Maybe it was because of his Russian Jewish heritage -- on his father's side. Or his pursuit of dark Jewish humor. Perhaps it was his name (my Hebrew name is Michaela; he was born Mikhail) or his "fish out of water" persona; or maybe it was simply his inner longing to get on stage.
Whatever the unofficial bond, I always admired his motto:
"The only safe thing is to take a chance."
Our own Jewish family was cautious, encouraging us kids to take the practical road. He, on the other hand, seems to have chosen the road less travelled. He trusted his instinct: rejecting golden boy Robert Redford in casting The Graduate, prolonging his search for a darker, quirkier Jewish actor (eventually discovering Dustin Hoffman) for the role of Benjamin. Later, he swooped a relatively obscure monologuist's one-woman show from oblivion onto Broadway, and called it Whoopi. The rest is herstory.
I often wondered what Mike Nichols was thinking when he gave up medical school training for Lee Strasberg? How the heck did he have the guts to leave a secure career path behind and follow the uncertain path of a performer? If only I could have asked him. He seemed ever-so- certain about the ever-so-unknown.

Nichols always seemed ahead of the curve; he did improv way before improv was UCB-trendy. He joined The Compass Players with downright confidence way before the Upright Citizens Brigade existed. As an impressionable kid, sitting in our olive-curtained Queens living room one night, I heard smidgens of something totally mind-blowing. It turned out to be An Evening with Mike Nichols and Elaine May.
My parents, after all, were both pragmatic and artistic. On special birthday celebrations, they spun the globe, teaching me geography and culture. They took me to Carnegie Hall to hear Danish comedian Victor Borge. They treated me to Ararat, my first Armenian restaurant; to my first Washington Square Village Art show; my first Japanese tatami room in Manhattan; and my first Chicken Kiev at the Russian Bear restaurant, where I first heard strolling violinists playing Midnights in Moscow.
They had an extensive 33 1/3 vinyl LP record collection and played wonderful avant-garde stuff, from '60s bossa nova jazz (Stan Getz and Jobim) to the folk music of Harry Belafonte and The Weavers. They held dinner parties in their tiny garden apartment, playing hours of Judy Garland and Ella Fitzgerald for their guests. And then came the comedians. Lenny Bruce, Mort Sahl, Woody Allen, and The 2000 Year Old Man with Mel Brooks and Carl Reiner. One splendid Saturday night, while my sister and I were snoop-sitting on the top of the stairs, eavesdropping on the party down below, we were spellbound by some mad geniuses.
Yup. We were listening to the sounds of Nichols and May. Mike Nichols, King of Spoken Word Comedy. Just as in music, it's all about the timing: the pauses, the suspense, the syncopation. It was The Operator sketch, where the out-of-all-his-change guy (Nichols) calls The Operator (Elaine May), desperate for the number of a Mr. George Kaplan. The Operator takes an excruciating amount of time spelling out KAPLAN: "K for Knight... A for Aardvark..." and so on. I was 8, and I was smitten. The moment I heard Elaine May in her nasal, snarky Operator voice, I wanted to become a comedienne. But one with wit and grit.
It was a blissful ride: a roller coaster of hilarity, as the caller gets more and more desperate, scrambling for the number, losing the dime as he hears it clink against all the other dimes, pleading for the Managing Supervisor and then the still higher up Mrs. Jones, finally crying tears of joy, talking to the Goddess of Bell Telephone Management as if he were at the knees of Mother Theresa, or perhaps on the therapist's couch.
Nichols' blend of brutality, bite and poignancy was his brilliance, spilling over with insight -- on film, in comedy, on stage, on TV, in love, and in life. In the Mother and Son bit, scientist Nichols defends his negligence in calling his mom: "Mother, I was sending up a rocket, I didn't have a second." And mom's (Elaine May's) response: "I'm going into the hospital ... they'll x-ray my nerves. How is your hangnail?"
I unexpectedly bumped into Mike Nichols one cold winter night in the East Village. I was on a Sold-Out/Waiting for The Cherry Orchard tickets line at the Classic Stage Company. Nichols was in his own quiet, personal space, but graciously took some moments out to discuss my struggles on the comedy path and his early improv days.
When I glanced down, I noticed he was holding a styrofoam cup of coffee. I only wish I could have heard his innermost thoughts on the ironies of Life and Plastics.
Calling all HuffPost superfans!
Sign up for membership to become a founding member and help shape HuffPost's next chapter