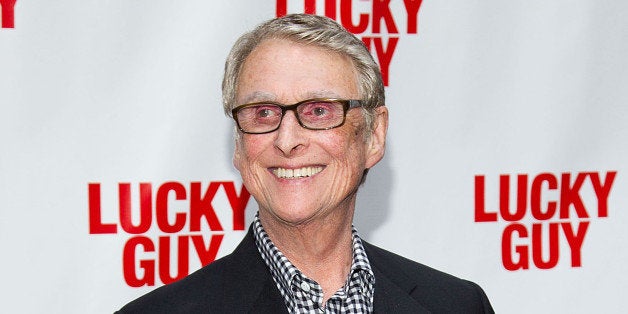 Mike was a mensch. He was the wittiest man I ever broke bread with, and he was a quiet philanthropist who saved lives while he was influencing "the American century." He improved the quality of life of countless men and women, many of whom died, but many of whom, gratefully, live on.
1991 was a dark time. The gay community, the arts community, was decimated. We needed comfort, we needed hope, and we needed a beautiful space to come together and celebrate life as we struggled to maintain it.
The brilliant tributes to Mike that have flooded the media over the last few days capture the extraordinary gifts his talents brought to film, theater, television, comedy and the American consciousness as it has evolved over the last 60 years. What hasn't been said is that Mike not only changed lives; he saved them. Back then, in 1991, when Cynthia "Cy" O'Neal told Mike about her idea for a pragmatic spiritual crisis center for people affected by AIDS, Mike immediately said, "I've been looking for something to do, and this is it." Cy's vision needed Mike's magic touch -- his ability to pick up the phone and call just about anybody. Together they created Friends in Deed: The Crisis Center for Life-Threatening Illness.
Mike was the founding chairman. For 13 years he headed up an eclectic board of creative and powerful people who wanted to serve with Mike because anything done with Mike was as much fun as it was work. Board meetings could be tough, but they were also illuminated by his wit and contagious good will. We had a blast creating brilliant fundraisers: Picture Mike and Elaine May performing some of their classic routines with Simon & Garfunkel (reunited for the first time in over a decade) as their opening act in an intimate Broadway theater; Whoopi Goldberg recreating the one-woman show that Mike had directed for her (after typically recognizing an unusual talent); Mike and Steve Martin performing in a loft for a fortunate few one night; and so many other brilliant evenings that only Mike could have made happen -- and he did, for Friends in Deed, for the clients. Mike was not only a force when it came to fundraising; he was a part of the community. Mike attended many a Tuesday-night Big Group. I can picture Mike's stunning wife, Diane Sawyer, singing Christmas carols by the piano at the annual holiday parties that were lavishly catered with food that they had quietly sent ahead. Clients were not "other"; they were friends.
A former client wrote to me last week, "I probably wouldn't be where I am today if it weren't for Mike Nichols and Cy O'Neal...and everyone who has made Friends In Deed what it has become...."
The work continues. Mike became Chairman Emeritus, and Hamilton South and I succeeded him as Chairman (it took two of us to fill his shoes), and today Andy Cohen heads up a vibrant board that supports Cy and the wonderful staff and volunteers. Mike's deed still provides comfort and safety.
Friends in Deed serves men and women dealing with any life-threatening physical illness, grief and bereavement, and caregiving at its center in Soho, as well as in groups in Harlem and Westchester County, New York. For more information, visit friendsindeed.org.
REAL LIFE. REAL NEWS. REAL VOICES.
Help us tell more of the stories that matter from voices that too often remain unheard.